Health and Wellbeing in Community Hands
May 10, 2022 @ 3:30 pm

-

5:00 pm

Free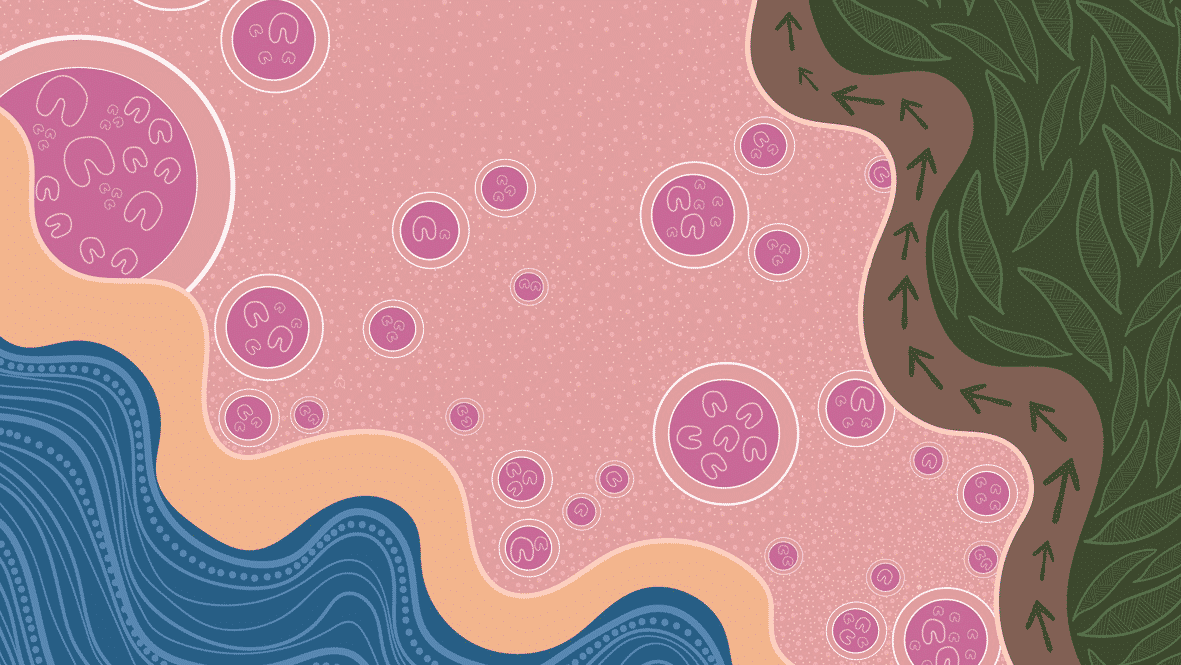 Melbourne Knowledge Week 2022
Marra Ba Gurrkwugel / Community + Culture • Panels + Talks
HEALTH AND WELLBEING IN COMMUNITY HANDS
A conversation on the importance of safe health settings for Aboriginal communities.
What does Community control look like in a health context, and how can culturally safe health settings improve outcomes for the Aboriginal and Torres Strait Islander Communities? This conversation will dig into what strong, safe, and culturally appropriate health and wellbeing practices could and should look like in our city.
With a key focus on the Community-controlled health sector's response to COVID-19, speakers will share insight on the support provided by Aboriginal Community Controlled Organisations (ACCOs) across Victoria throughout 2020 and 2021, and how ACCOs will continue to support Community in 2022 as we learn to live with COVID-19.
Speakers:
Troy Walsh
Troy is a proud Panninher man from Tasmania, he was born on Kurnai Country and grew up in Melbourne. He is the Chief of Staff at VACCHO and is currently Acting Executive Director for VACCHO's Health & Information Unit. Troy spent 28 years at Telstra working across data, technology and automation, as well as leading initiatives within Community, such as digital media programs to lift attendance and engagement in schools.
Raylene Harradine
Raylene, a proud Wotjabulluk, Latje Latje, Dja Dja Wurrung woman, has been CEO of Bendigo & District Aboriginal Cooperative for nine years. Raylene is currently the Chairperson for the Victorian Aboriginal Children and Young People's Alliance, representing 15 Aboriginal Community Controlled Organisations. Raylene was instrumental in leading the establishment of the first rural Victorian authorisation of children in out of home care under Section 18 of the Child, Youth and Families Act (2005). Raylene has worked in management positions within Aboriginal communities for over 20 years as well as in the Department of Justice & Regulation and Health and Education sectors. Awarded a Public Service Medal in 2006 for her outstanding work with Aboriginal Communities, Raylene is also an author of "Aboriginal Art and Culture", 2009, and published an abstract on "Reconciling Indigenous Pedagogy and SOSE" in the Australian and New Zealand journal of Public Health in January 2000. Raylene is passionate about culturally inclusive practices, equity for all and achieving the best possible outcomes for Aboriginal children and young people.
Karen Heap
Karen is a proud Yorta Yorta woman and CEO of the Ballarat and District Aboriginal Cooperative (BADAC). Since she became CEO in 2004, Karen has driven the strategic vision and significant expansion of BADAC. Under Karen's leadership, BADAC has quadrupled in size from 40 staff to 150, thus increasing jobs for Aboriginal people, and providing services and programs for the rapidly growing Ballarat region Aboriginal and Torres Strait Islander community and supporting them toward self-determination. Karen has introduced a wide range of family support services, including family violence programs, social and emotional well-being, kinship care, drug and alcohol, housing and justice. She envisioned, secured funding for and delivered a brand new $6 million dollar culturally safe full medical clinic. She drove the realisation of two culturally safe Early Years centres, opened by BADAC in 2021 and 2022, which connect Aboriginal families to education. Karen is widely regarded as an inspirational leader by her staff and colleagues, government agencies and bodies, and most importantly, by her community, the Aboriginal and Torres Strait Islander community of the broader Ballarat region. Karen is a visionary and active advocate for self-determination for Aboriginal and Torres Strait Islander people.
Alan Brown
Alan is a Gunditjmara man, born and raised in Melbourne, with 38 years of intimate involvement and leadership at the Victorian Aboriginal Health Service, including advocacy for local Aboriginal community control of health service delivery at a state, national and international level. Alan brings a wealth of experience and knowledge of this important health sector. He is a life member of the Victorian Aboriginal Health Service, and an honorary member of the Royal Australian College of General Practitioners. Alan is also currently co-chair of the City of Darebin's Aboriginal Advisory Committee and volunteers at the Western Bulldogs Community Foundation.
Artwork by Madison Connors (Yorta Yorta (Wolithica), Dja Dja Wurrung and Gamilaroi) for On Solid Ground, VACCHO's Strategic Plan 2021-26.