VACCHO Inaugural Statewide GP Gathering
We are delighted to host the 2022 Inaugural Statewide GP Gathering in Echuca/Moama, Yorta Yorta Country. The Gathering will host GPs from Member ACCO's all around Victoria who will partake in clinical and cultural education and professional development.
Register by 29 April, 2022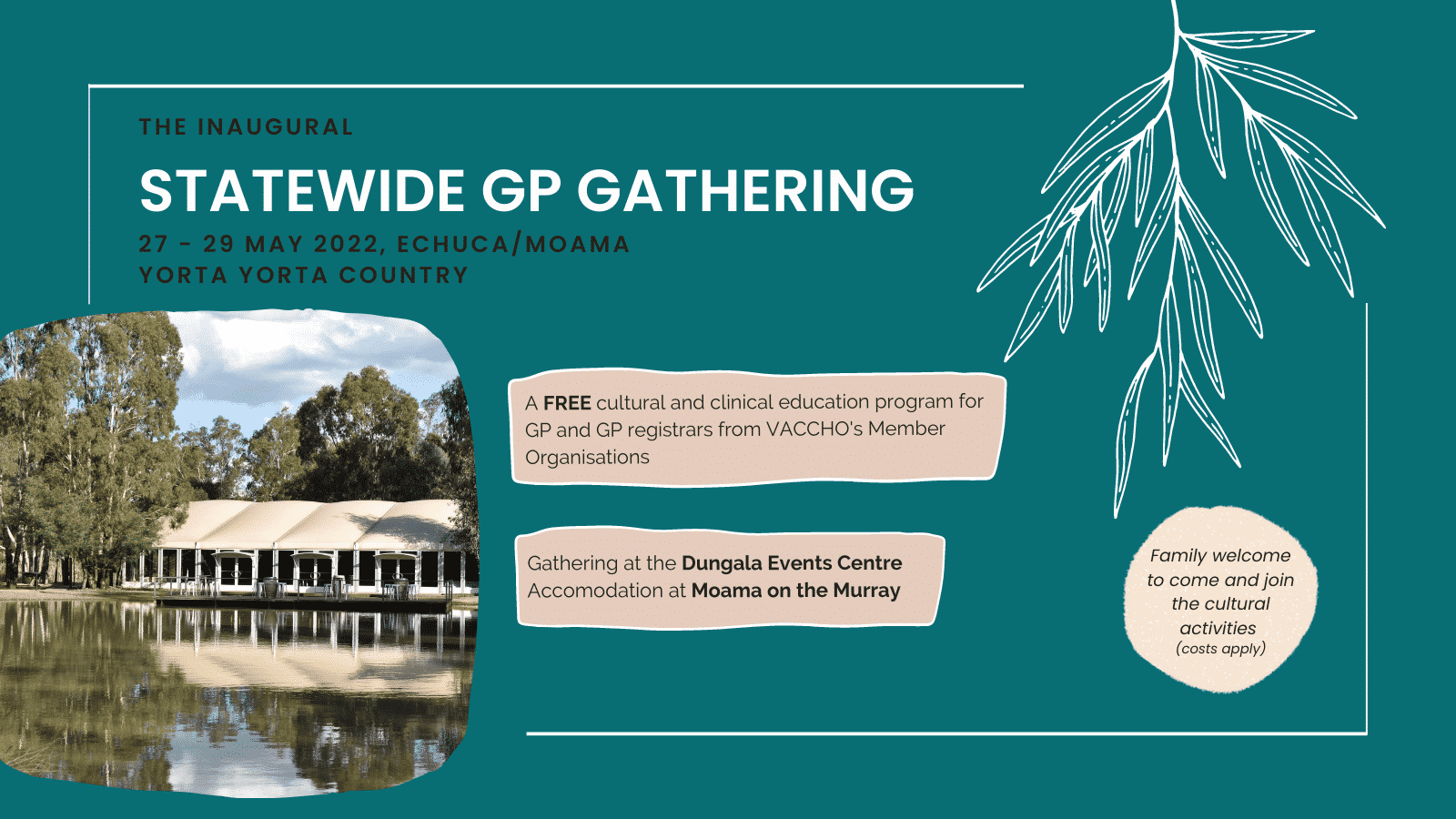 About the Gathering
Dates: Friday 27 May – Sunday 29 May
Starting with a group dinner at 6pm on Friday at the Dungala Events Centre and finishing Sunday at 1pm following lunch.
Gathering Venue: Dungula Events Centre, Echuca
Accommodation Venue: Moama on the Murray, a bushland paradise on the banks of the Murray River with great facilities onsite, 300m from the Dungula Centre
Cost:
The Gathering including full cultural and clinical education program, meals and accommodation will be covered by VACCHO. More information on costs here.
This event is open to Doctors working as GPs in a VACCHO Member Organisation, including GP registrars and GPs with/without Fellowship.
Bring your family!
Attendees are welcome to bring their family to the event to join the cultural activities and join the group for meals (subject to capacity allowances). Please note VACCHO will seek a payment from you at the event to cover your family members meal costs (approx. $150 per adult) and any room upgrades, if required.
Program
Welcome dinner
The Gathering will kick off with a group dinner at [insert venue] on Friday 27 May at 6pm
Cultural Education at the Dungala Events Centre (TBC)
• Welcome to Country and smoking ceremony
• Cultural education for Victorian GPs
Clinical education at the Dungula Events Centre
Structured, interactive education specifically tailored to Victorian ACCO GPs (approx. 4 – 6 hours). VACCHO will seek accreditation from RACGP and ACRRM for the program. Topics will include:
Clinical topics – Making the most of health checks
Parents Evaluation of Child Developmental Status
Benchmarking ACCO GP terms and conditions
GP Wellbeing in the ACCO setting
And more!
Costs
Costs covered by VACCHO include:
• Full cultural and clinical education program
• Accommodation in a one bedroom villa (limited number of two bedroom apartments available)
• Meals: two dinners (Friday and Saturday), two breakfasts (Saturday and Sunday), two lunches (Saturday and Sunday)
Costs not included
• Alcoholic beverages or other incidental costs
• Travel to/from Echuca/Moama – VACCHO will seek support from RWAV to coordinate GP access to grants to cover travel costs. If you require financial assistance to travel to the event, please contact VACCHO's GP Statewide Co-Ordinator.
• Meals for attendee guests or family members – additional cost will apply of (approx. $150 per day per family member). Children costs to be advised. These costs will be confirmed closer to the date and payable at the event
• Room upgrades – Most room types will accommodate 2 people (queen bed). VACCHO will book a number of two-bedroom apartments for GPs who wish to bring their families. Should they become occupied, or attendees require additional rooms, the difference in cost will need to be covered by the GP.
COVID Contingency Plan
A. Should the event be unable to proceed in May, a new date will be confirmed later in the year.
B. Should limitations apply that would restrict the number of attendees, VACCHO will consider holding two smaller events.
For more information on the Gathering's COVID Contingency Plan, contact VACCHO's GP Statewide Co-Ordinator.
The VACCHO team are looking forward to seeing you in person in May!
Enquiries from Members can be made by filling out and submitting the form below. Alternatively, you can email us directly members@vaccho.org.au