What has contributed to food choices in the Aboriginal community in recent years? That was the big question asked at a recent FoodPATH workshop held at Rumbalara Aboriginal Cooperative.
FoodPATH, which stands for Food Policies for Aboriginal and Torres Strait Islander Health, is a project aiming to empower Aboriginal Communities in Victoria to determine the actions needed to promote healthier food environments in their local communities.
Following a Welcome to Country and smoking ceremony led by Aunty Cheryl, Rumbalara Aboriginal Cooperative staff and Community gathered in the Harmony Building in Mooroopna for two days of stories, yarning and providing important feedback to the FoodPath project.
The workshops, facilitated by Deakin University Murnong Health Research Mob staff, Troy Walker (Yorta Yorta) and Steph Thow (Pennemuker/Ngati Porou) with support from Wonnie Blow (Yorta Yorta) and two non-Indigenous team members, Dr. Jennifer Browne (Deakin University) and Holly Beswick (VACCHO), had the participants complete a number of activities based around healthy food choices in the Aboriginal Community and identifying the challenges that make it harder to eat healthy.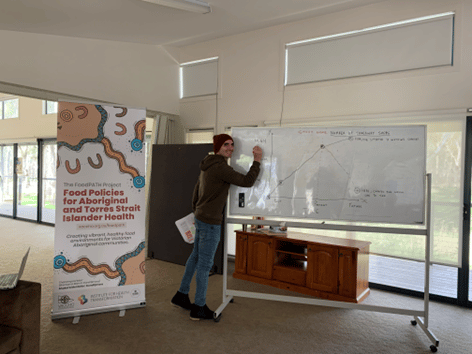 The group identified the following themes
• Family and culture
• Starting early with the kids
• Food knowledge and skills
• Junk food marketing / Government regulation
• Access to junk food
• Cost of food
• Feeding the family
• Food and mood
Picture left: Proud Yorta Yorta man and workshop facilitator Troy Walker
Deakin University's custom software program called "STICKE" was used to build a systems map of all the interrelated factors that participants suggested had contributed to food choices in the community.
It showed the themes being all inter-connected as part of a system of factors influencing unhealthy eating and food-related disease.
Six priority actions were identified in the final workshop which will require a combination of government and community level actions.
1. Mandatory, easy-to-understand food labels that are based on facts
2. Food and nutrition education to be routinely taught in schools
3. Community cooking programs (for all ages) to increase cooking skills.
4. More family support around food preparation, cooking and healthy family mealtimes
5. Provision of healthy food at community sports events
6. Eliminate junk food sponsorship in sports
VACCHO and Deakin University have been funded by VicHealth to implement the FoodPATH project which will continue running workshops at various Aboriginal Community Controlled Health Organisations across Victoria.
More information about the FoodPATH project can be found here or by contacting nutrition@vaccho.org.au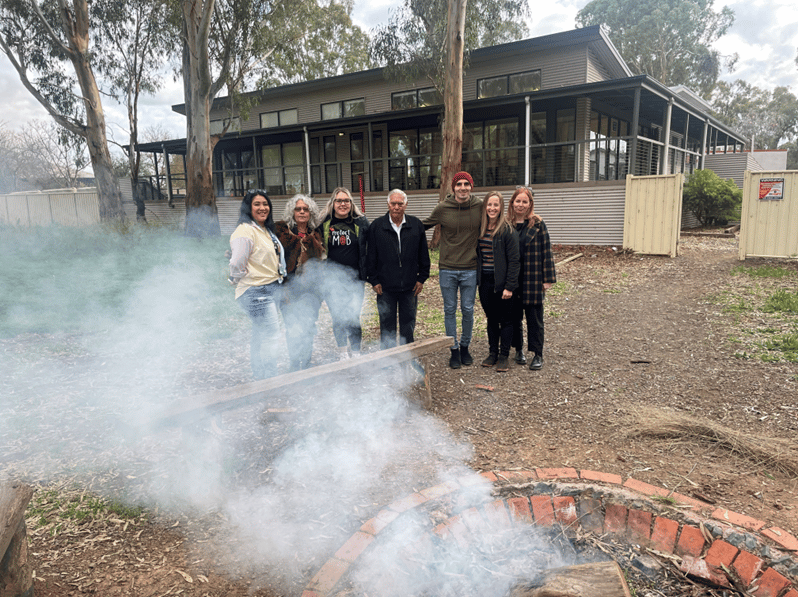 Above: Steph Thow, Aunty Cheryl, Wonnie Blow, Uncle Lance, Troy Walker, Jennifer Browne, Holly Beswick