The Victorian Aboriginal Community Controlled Health Organisation (VACCHO) has launched its Victorian election campaign which calls on all political parties to put Aboriginal Health in Aboriginal Hands.
202 This includes creating a perpetual infrastructure fund from land tax revenue to support Aboriginal organisations to develop and maintain facilities, tackling the rising rates of suicide among Aboriginal and Torres Strait Islander people, and funding Aboriginal organisations to care for Aboriginal people in custody to prevent further deaths.
VACCHO CEO Jill Gallagher believes that commitment from political parties on these priority areas is crucial to ensuring better outcomes and experiences for Aboriginal and Torres Strait Islander communities in Victoria.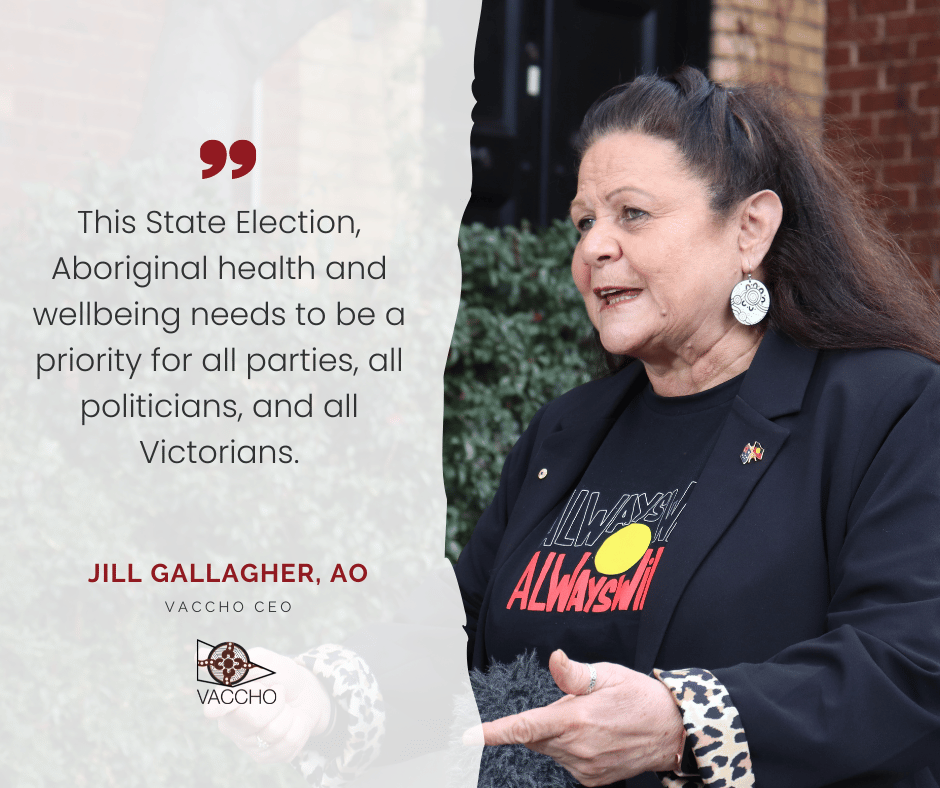 "This State Election, Aboriginal health and wellbeing needs to be a priority for all parties, all politicians, and all Victorians."
"Aboriginal health in Aboriginal hands is critical to ensure our communities have adequate access to culturally safe and self-determined health and wellbeing services."
"From a funding standpoint we need to see real commitment – we need to move past piecemeal type funding. We must see long-term funding commitments from governments – commitments that go beyond election cycles."
"It is incumbent on all political parties to empower Aboriginal Community Controlled Organisations (ACCOs) to help strengthen the Aboriginal and Torres Strait Islander community in Victoria."
Infrastructure
• Establish a perpetual infrastructure fund for ACCOs using 1.5% of land tax revenue for ten years to provide an ongoing fund that can develop and maintain facilities.
• Commit $25m over five years for the development and maintenance of the Victorian Aboriginal Health Information System.
• Provide $3.5m to fully fund the Aboriginal Health and Wellbeing Workforce Strategy 2021-26 that would provide scholarships, cadetships, and leadership building.
Securing Justice and Health
• Government should fund Aboriginal organisations to provide health services directly to Aboriginal and Torres Strait Islander people in custody to ensure that Aboriginal health is in Aboriginal hands.
Self-Determination
• Establish an independent Aboriginal Affairs Commission to monitor and evaluate services responsible for delivering health and wellbeing outcomes for Aboriginal and Torres Strait Islander people.
• Provide $20m over five years to implement the Victorian Aboriginal Health, Medical and Wellbeing Research Accord.
Services safe from racism and discrimination
• Mandate cultural safety training for all publicly funded mainstream health services to be provided by an external Aboriginal organisation.
Social and Emotional Wellbeing in our Community
• Establish an Aboriginal and Torres Strait Islander Suicide Prevention Taskforce as part of Victoria's Suicide Prevention and Response Strategy
VACCHO values strong, meaningful partnerships and looks forward to working with all parties in applying Aboriginal culture, knowledge, and innovation for the betterment of the health and wellbeing of the Community.
The 2022 Election Platform is based on VACCHO's guiding principles of Culture and Kinship; Our Choice Our Way; and Knowledge and Innovation.
Culture, Community and Country needs to be embedded and respected in all healthcare settings and for Aboriginal and Torres Strait Islander people to have equitable health access and outcomes.
VACCHO believes it is vital ACCOs are resourced to provide wraparound support for community before birth to Dreaming.
The Victorian State Election will be held on Saturday 26 November 2022.