The Victorian Aboriginal Community Controlled Health Organisation (VACCHO) is proud to launch the groundbreaking Culture + Kinship program evaluation report ahead of National Close the Gap Day tomorrow.
Last year's Closing The Gap report data and last month's Coroners Court of Victoria Suicide Report provided unmistakable evidence that the devastating gaps in health and wellbeing outcomes between Aboriginal and Torres Strait Islander people and non-Indigenous Victorians continue to blight health equality in Victoria.
VACCHO's recently released Culture + Kinship Report powerfully demonstrates that by focusing on the cultural determinants of health, there are constructive approaches that can be taken to close the gaps in health and wellbeing disadvantage.
Through Culture + Kinship, Aboriginal and Torres Strait Islander communities have been able to re-connect with Community, Culture and Country.
At the very core of the program was the opportunity for the funded Communities to learn more about, and participate directly in, Aboriginal and Torres Strait Islander knowledge and creativity.
The Culture + Kinship program was uniquely Community driven with a flexible funding model that empowered Communities to lead the way with their own solutions in the form of self-determined, locally led programs.
A social return on investment analysis showed that the program produced significant value for its stakeholders, with Community Members benefiting especially through reconnecting with Community, Culture and Country, and in doing so, experiencing a range of positive health and wellbeing outcomes.
VACCHO would like to pay tribute to Aboriginal Community Controlled Health Organisations Budja Budja, Goolum Goolum, Rumbalara and Moogji for their dedication and enthusiasm in embracing this groundbreaking program.
Quotes attributable to Jill Gallagher, Chief Executive Officer, VACCHO.
"I am optimistic that the positive outcomes outlined in this report will encourage further investment into programs and services that focus on cultural determinants of health and provide sustainability for our Communities through flexible, long-term funding."
"The Culture and Kinship program has reinforced the undeniable fact that Aboriginal-led and localised approaches deliver the best results for Community and Aboriginal knowledge, empowerment, advocacy, and innovation are the key to closing the gap in health disadvantages experienced by our people."
Quotes attributable to Abe Ropitini, Executive Director – Population Health, VACCHO.
"It was inspiring to see the connection to culture and kinship that the initiative nurtured. Aboriginal and Torres Strait Islander people know that these important connections have direct impacts on the health, and wellbeing of the Community. For our young people it develops confidence, self-esteem, and pride in Aboriginal and Torres Strait Islander Culture."
"The program shows that if there is investment in connecting people to their Country and Community, we will be able to create vibrant and self-determining Communities, and our Boorais (children) will grow up to shape the future for Aboriginal and Torres Strait Islander people in Victoria."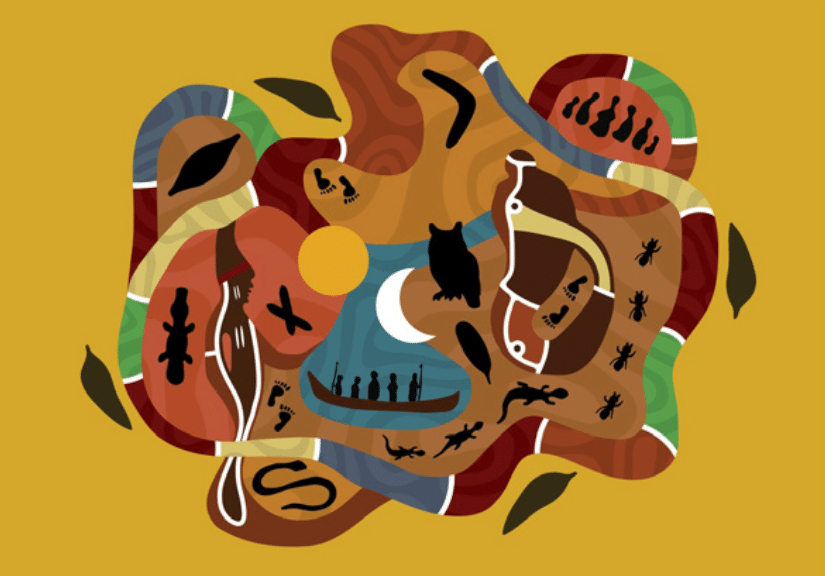 About the Culture + Kinship artwork
Rochelle Patten Snr (Qway) | Gunnai, Yorta Yorta, Wemba Wemba, Dhudhuroa
"This painting is about culture and spirit. When we have connection, we have health and wealth. The river is a lifeforce that sustains and maintains us. We are all different, yet we are the same under the moon and sun. Grandfather is the teacher of young men, in which you can see the men and boys in the canoe. Grandmother is a teacher of young women; they sit in a yarning circle to share knowledge. The owl is a symbol of wisdom. The gum leaf is a symbol of welcome and growth. The shield is a symbol of strength. The feet symbolise going back to Country for wellbeing and being guided by our Ancestors' footprints. The animals are symbolic of Caring for Country; which is also to care for self."
Read more about VACCHO's Impact here