Members of the Uluru Dialogue and key advocates for the 'Yes' campaign in Victoria joined forces at VACCHO on Sunday to officially launch the 'You're The Voice' campaign featuring Aussie music icon John Farnham. 
VACCHO were honoured to welcome key architects of the Uluru Statement from the Heart to the Sackville Street office to deliver a powerful show of support for a 'Yes' vote.
Wurundjeri Elder Aunty Di Kerr delivered a powerful Welcome To Country before Uluru Dialogue representatives and 'Yes' advocates spoke about the "once in a lifetime opportunity" the October 14 Referendum presents.
Uluṟu Dialogue co-chair Professor Meagan Davis paid tribute to Farnham for putting his famous anthem front and centre of the "Yes" campaign.
"This moment of the Voice to parliament and the referendum is what this song has been waiting for," Professor Davis told the crowd."
"We are incredibly grateful to John Farnham – he doesn't use this song lightly."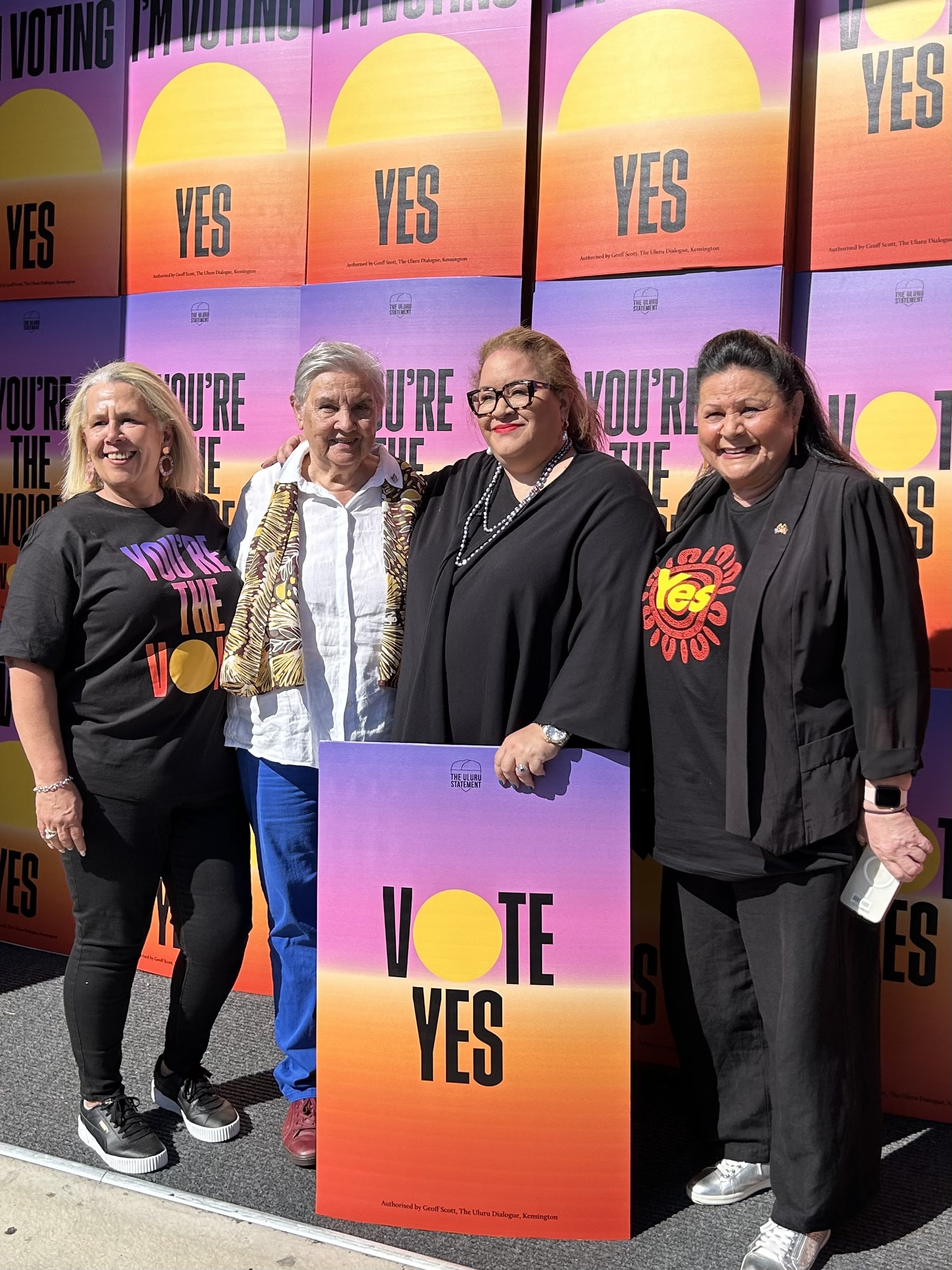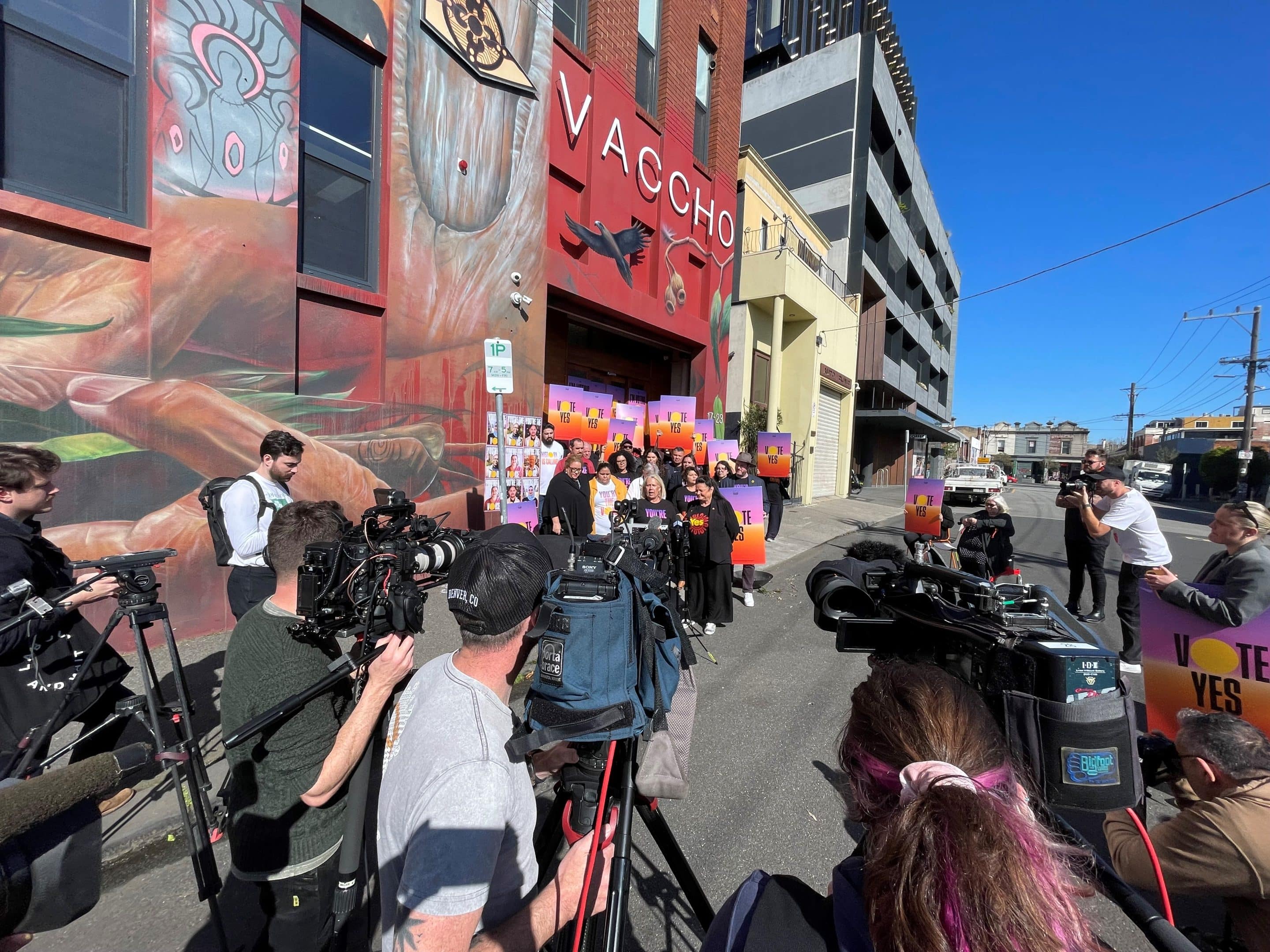 Above: Media at the You're the Voice campaign launch at VACCHO.
Picture left (L to R): Janine Coombs, Aunty Pat Anderson AO, Prof .Megan Davis and VACCHO CEO Jill Gallagher AO
"There have been many things that we have done as a nation that we have felt anxious about – that we have debated. But on the other side of that, our country has come out a better place. A safer place," said Professor Davis.
The 'You're the Voice' video shows an Australian family as they witness pivotal moments in the nation's modern history. With Farnham's iconic anthem in the background, they relive key events spanning several decades including the historic 1967 referendum, the groundbreaking Mabo decision, the euphoric America's Cup victory, the significant Uluru handback, and the exhilarating Olympic gold medal run by Cathy Freeman. The video also commemorates the pivotal 1996 gun reform, and the moving 2008 apology speech by Kevin Rudd in the Australian Parliament.
The video also pays homage to the 2017 marriage equality plebiscite, marking Australia's most recent significant national vote outside of a general election.
"We often look back at those events and think why we were so worried?" says Professor Davis.
"As a nation we have been heavy lifters in many areas of law reform and policy – we have been innovators and pioneers – and that's what we are doing here."
Professor Davis also noted that it was the small conversations that were still the key to winning the referendum.
"All we can do is get out there and talk neighbour by neighbour, neighbourhood by neighbourhood, netball club by netball club, soccer club by soccer club. It's just going to be Mob yarning with Aussies, and that's the only way we can get our information out there."
VACCHO CEO Jill Gallagher urged Australians to walk with First Nations' people on this life-changing journey.
"Having First Nations people enshrined in the constitution is vital as that will provide true recognition of one of the most ancient cultures on this planet."
"I'd implore all Australians to please vote 'Yes' – walk with us and our culture as the Uluru Statement says will be our gift to the rest of this country."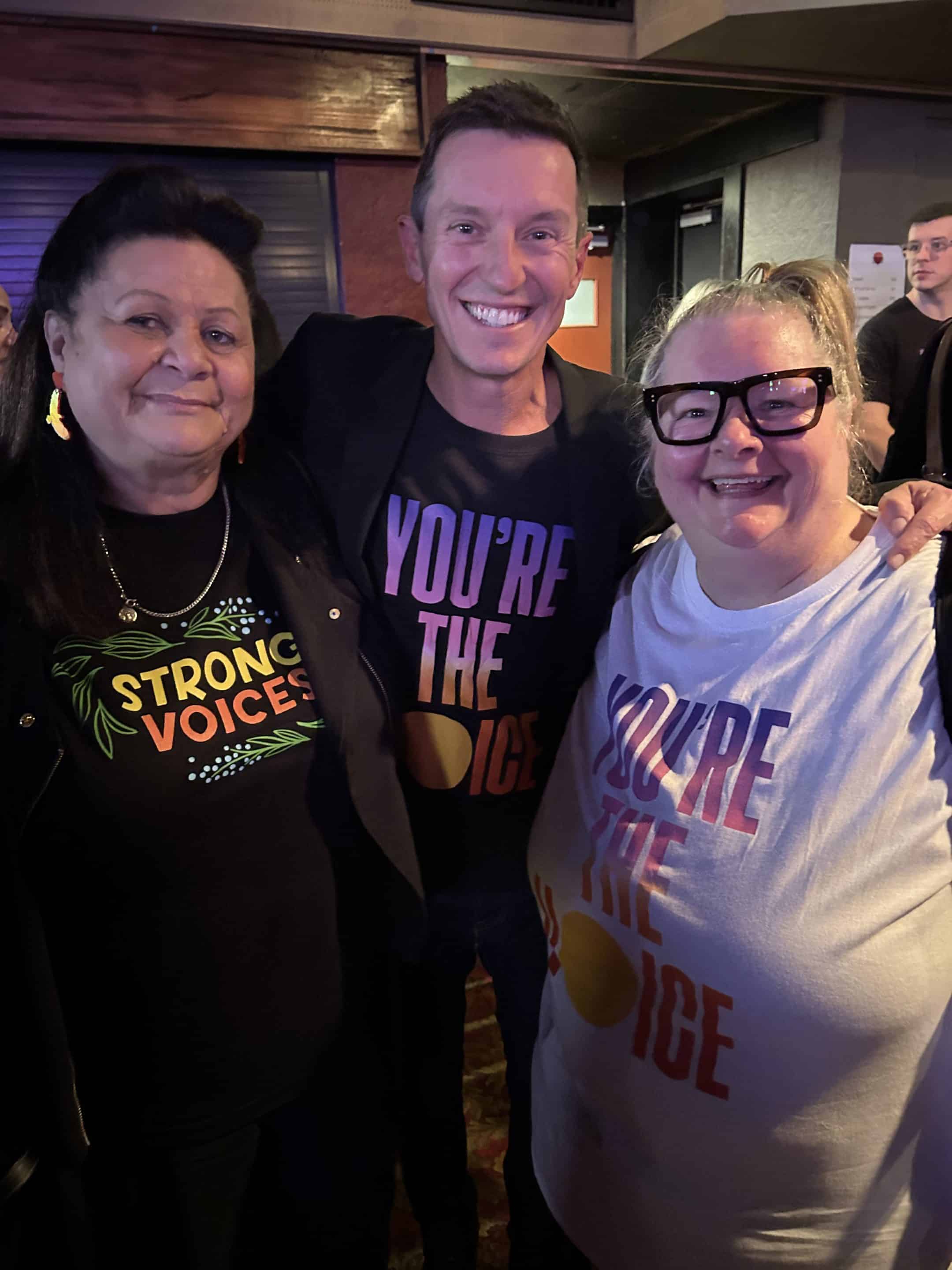 Above: The 'You're the Voice' campaign launch events took place throughout the day ending at the iconic Corner Hotel in Richmond where they were joined by Australian media and entertainment industry personalities such as Magda Szubanski (right) and Rove McManus (middle) pictured here with VACCHO CEO Jill Gallagher.
More information on VACCHO's support for an Aboroiginal Voice here