The Beautiful Shawl Project
The Beautiful Shawl Project is a collaborative, Community-led initiative providing safe and empowering breast screening experiences for Aboriginal and Torres Strait Islander women by providing a culturally safe and responsive alternative to traditional screening.
The Project is a collaborative effort between VACCHO, BreastScreen Victoria, the Victorian Aboriginal Health Service (VAHS) and eight Aboriginal Community Controlled Organisations (ACCOs) in Victoria.
The Project provided customised screening shawls to Aboriginal and Torres Strait Islander women that are culturally appropriate, familiar and beautiful to wear during their breast screen. The shawls, designed by more than ten local talented Aboriginal and Torres Strait Islander women and artists, are gifts to take home after their screen was complete.
Implementation model
Breast Screen Victoria's mobile screening service visits over 15 ACCOs once every two years as part of the Beautiful Shawl Project. This implementation model has been developed to support ACCOs and other organisations to implement engagement with Aboriginal and Torres Strait Islander communities.
The guiding principles may also support engagement with other under screened communities. All engagement should be community led.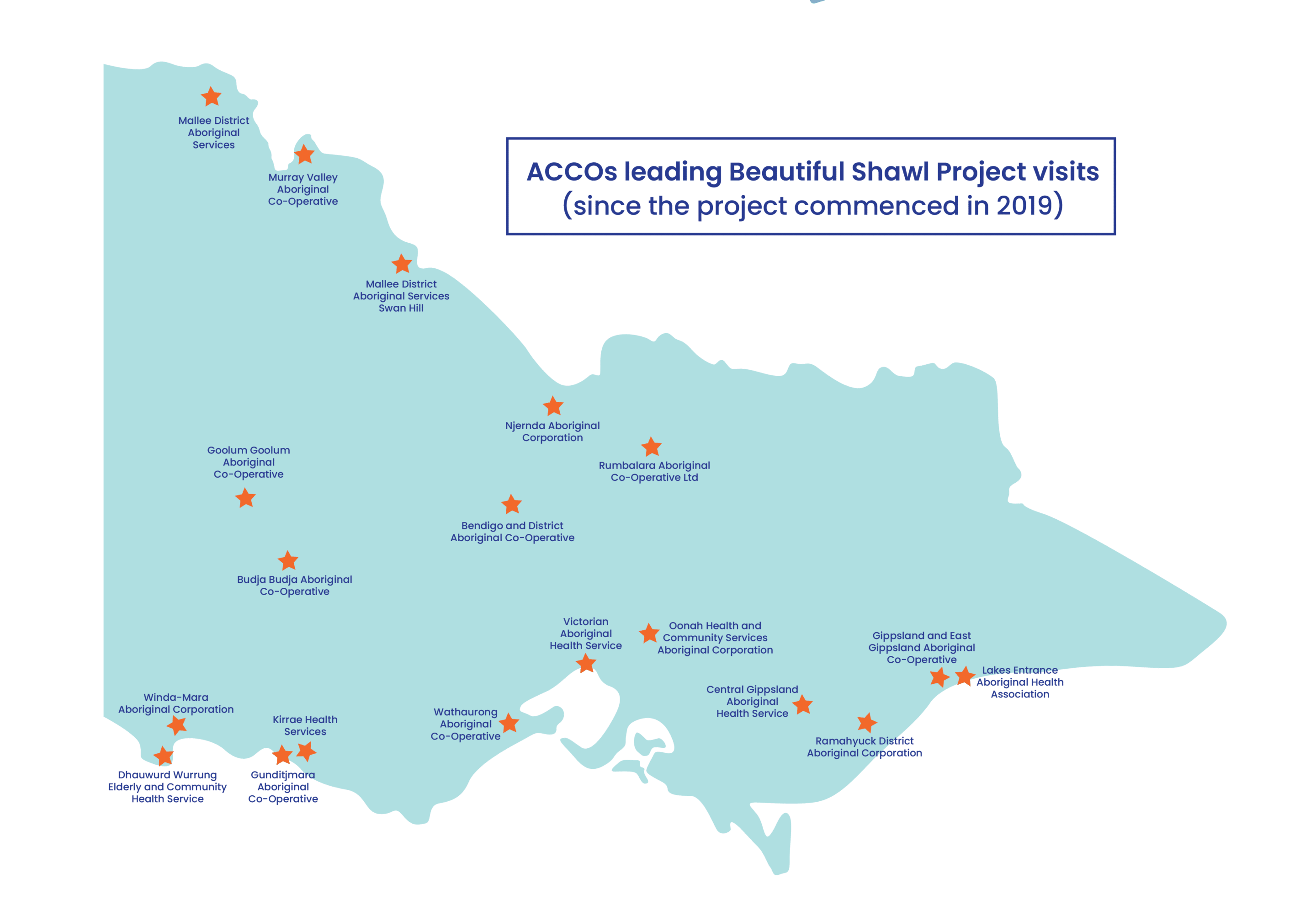 In 2020, The Beautiful Shawl Project was profiled in a heart-warming, 12-minute documentary filmed on Country. It captures the reactions and feelings of Communities, staff, and clients. The documentary also looks at the lives of women across the Aboriginal and Torres Strait Islander Community as they experience new ways of staying safe, culturally connected and empowered. Watch it here.
BreastScreen Victoria's podcast 'The Screen' goes behind the scenes to bring you information about their program, breast screening and breast cancer. In episode 8, they feature the Beautiful Shawl Project and the positive impact for Aboriginal and Torres Strait women. 
Get your breasts checked with BreastScreen Victoria and the Beautiful Shawl Project
As part of the project, BreastScreen Victoria's two mobile screening vans travels to Aboriginal community health hubs across the state to provide free and accessible screens.
Check the calendar to see where the Beautiful Shawl Project mobile screening vans will be.
For more information about on future mobile screening dates and locations get in touch with VACCHO.
If you have a query about breast screening or to book an appointment at your nearest screening clinic or BreastScreen Victoria.
Got a query? Get in touch by filling out and submitting the form below or by phone 03 9411 9411.