VACCHO Statewide GP Gathering 2024
May 3, 2024 @ 4:00 pm

-

May 5, 2024 @ 1:00 pm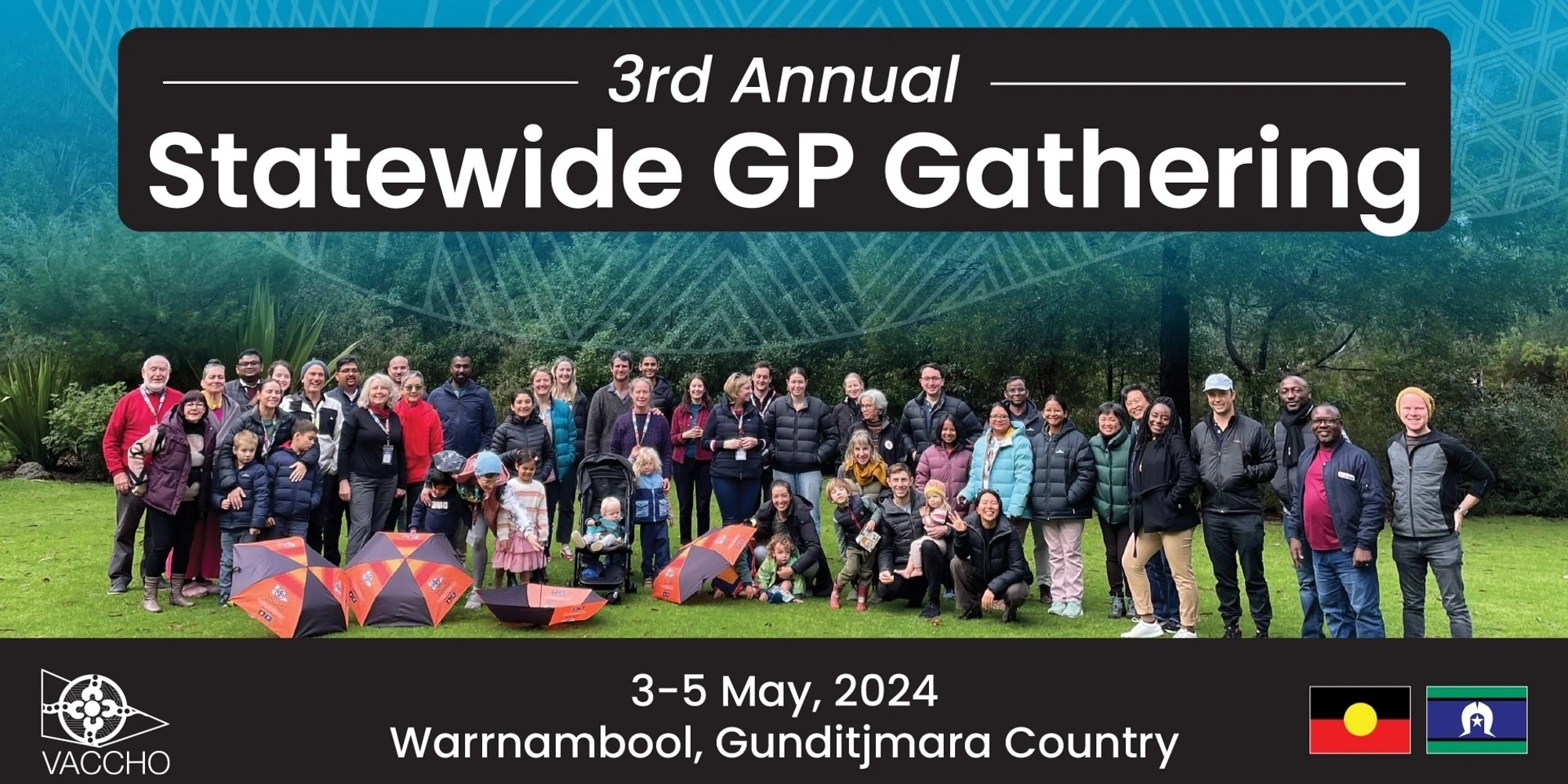 We are pleased to invite GPs working at ACCOs across Victoria to come together at VACCHO's 3rd Annual Statewide GP Gathering in May 2024.
The GP Gathering will be a unique blend of cultural and clinical education, peer support and professional development with a focus on GP wellbeing.
Note no registration fees will need to be paid at this stage, VACCHO will work with RWAV to access available support via the Health Workforce Scholarship Program to cover GP attendance.
Time/Date: 
From 6pm Fri 3 May 2024
To 1pm Sun 5 May 2024
Location: 
Lady Bay Resort,
2 Pertobe Rd, Warrnambool VIC 3280, Australia
Program TBC – please contact gwynl@vaccho.org.au if you have suggestions or are interested in presenting at the GP Gathering.
Any queries? Please contact Gwyn at gwynl@vaccho.org.au

Staying healthy
We encourage responsible consumption of alcohol in order to provide an enjoyable, safe and welcoming environment for all present.
Staying COVID-19 safe
We look forward to seeing you this weekend. As GPs and health work professionals, we know all too well the importance of keeping COVID-19 Safe. Therefore, we strongly recommend that, before you travel to the Gathering, you do a RAT to ensure you are COVID-19 free. We will have plenty of RATs and masks available for use over the weekend. Do not hesitate to leave early during the weekend if you or a family member become unwell. VACCHO's priority is to keep everyone safe and prevent spread of infectious diseases. We also recommend staying at home if you're experiencing any of the following symptoms or any other infectious symptoms:
– fever
– chills or sweats
– cough
– sore throat
– shortness of breath
– stuffy or runny nose.
– loss or change in sense of smell or taste
– nausea and vomiting
– diarrhoea