The Culture + Kinship program has been established by the Victorian Aboriginal Community Controlled Health Organisation (VACCHO) to improve the health and wellbeing of Aboriginal and Torres Strait Islander people. To do so, Culture + Kinship has focused on Culture and Community as key drivers of Aboriginal and Torres Strait Islander people's' health and wellbeing.
Aboriginal Community Controlled Organisations (ACCOs) are provided with flexible funding to run upstream wellbeing initiatives focused on building community and strengthening connection to Culture, Kinship, Community and Country. It is anticipated that focusing upstream on connection to Culture, Kin, Community and Country, will have downstream benefits for health and wellbeing, including improved healthy behaviours and increased engagement with ACCOs and the health system. VACCHO funds Aboriginal Community Controlled Organisations (ACCOs) to develop and implement programs that focus on meaning and purpose, safety, connection, belonging and identity. ACCOs design their own initiatives under this program and include things such as youth camps, wellbeing programs, community skills and Kinship workshops.
We have Victorian ACCOs reporting on programs that move beyond health promotion education to provide a holistic approach to chronic disease management and influencing healthy lifestyle changes. By focussing on Culture and Kinship in the first instance we believe conditions can be created to help someone feel connected, and give them a sense of meaning and purpose, belonging, identity, respect, and stronger relationships and the flow on effect of improved personal wellbeing will see more Community engaging in health-seeking behaviour.
The monitoring of this learning phase aims to demonstrate the value of ACCOs wider and holistic programs including those that focus on Culture and Kinship, which are generally underfunded.
Evaluation of the Culture + Kinship project is achieved through extensive use of Yarning, a First Nations cultural process that involves the exchange of information through storytelling. KOWA's Impact Yarns© a process draws on this rich cultural history as a way of conversing with Aboriginal communities about the impact of a particular program or initiative. Impact Yarns© are a cultural adaptation of the Most Significant Change methodology. They will allow stakeholders and Community to identify the outcomes/changes that they felt were significant in the pilot in their own words (orally or written or through pictures, dance, art etc). After participating ACCOs implement their initiatives and begin to gather/harvest Impact Yarns© with Community and other stakeholders, ACCOs are supported through a participatory workshop to develop an updated Theory of Change that is tailored to their initiatives and local context. The Theory of Change documents how the initiative is working in their Community, based on the outcomes that were evidenced through the Impact Yarns©, and determine immediate outcomes, longer-term outcomes and impact.
The Culture + Kinship pilot project was initially delivered across four Aboriginal and Torres Strait Islander Communities during 2022 and a comprehensive evaluation and SROI analysis was conducted.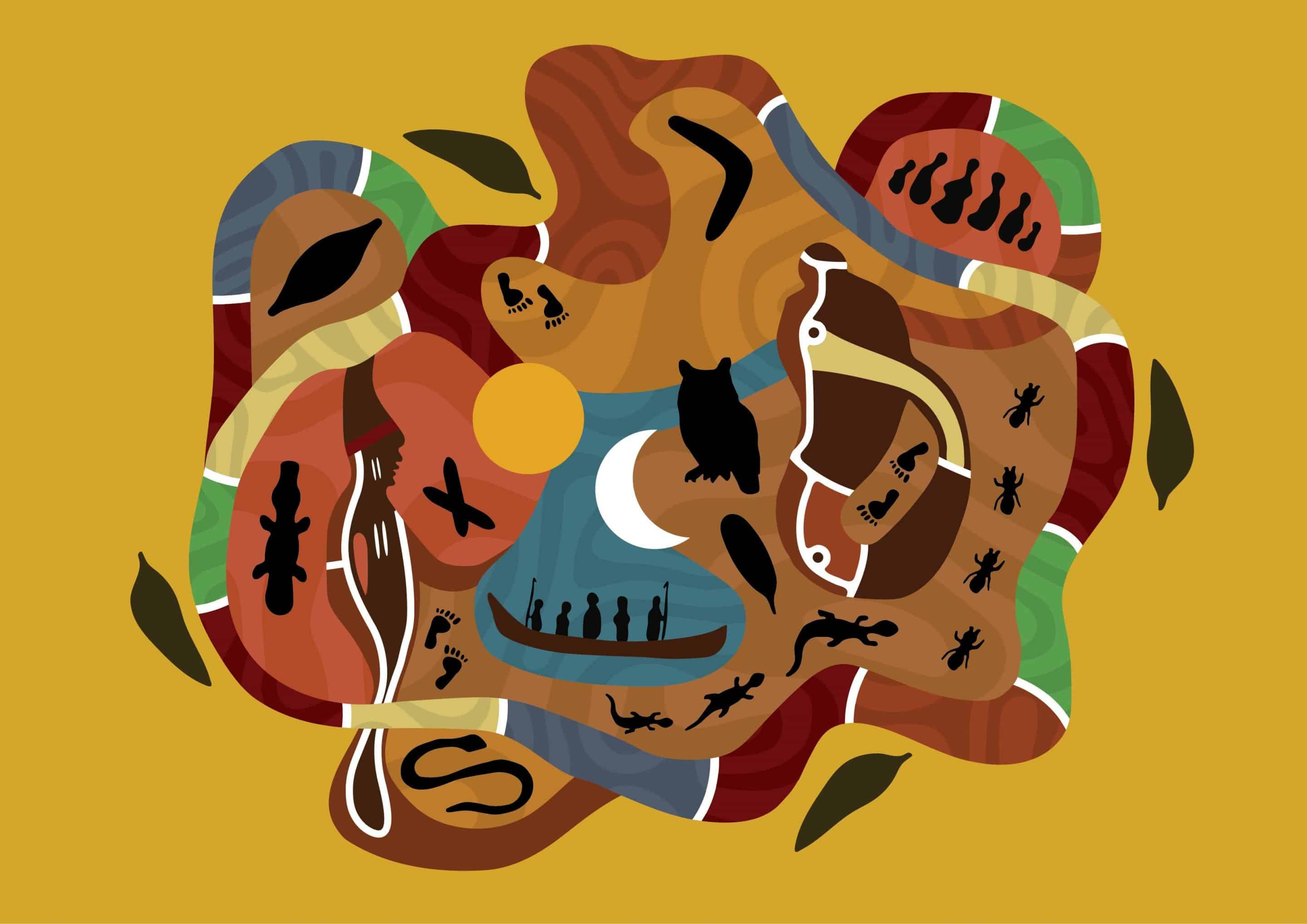 About the Artwork
"This painting is about culture and spirit. When we have connection, we have health and wealth. The river is a lifeforce that sustains and maintains us. We are all different, yet we are the same under the moon and sun. Grandfather is the teacher of young men, in
which you can see the men and boys in the canoe. Grandmother is a teacher of young women; they sit in a yarning circle to share knowledge. The owl is a symbol of wisdom. The gum leaf is a symbol of welcome and growth. The shield is a symbol of strength. The
feet symbolise going back to Country for wellbeing and being guided by our Ancestors' footprints. The animals are symbolic of Caring for Country; which is also to care for self."
Rochelle Patten Snr (Qway) | Gunnai, Yorta Yorta, Wemba Wemba, Dhudhuroa
The ACCOs represented in the report are;
Budja Budja Aboriginal Co-operative
Delivered a series of camps for primary and secondary aged students focused on education and activities about Aboriginal Culture ('Budja Budja')
Goolum Goolum Aboriginal Co-operative
Implemented a possum-skin workshop for local women and Elders ('Goolum Goolum').
Moogji Aboriginal Council East Gippsland
Purchased, and made improvements to a property, and used the property as a gathering and healing place for Community.
Rumbalara Aboriginal Co-operative
Ran a First Nations healthy lifestyle workshop for local young adults.
This SROI analysis showed that the Culture + Kinship program produced significant value for its stakeholders, returning a social value of $8.29 for every dollar invested.
Evaluation Findings
The Culture + Kinship program is delivering positive outcomes.
Community Members experience value through reconnecting with Community, Culture and Country, and in doing so, experience a range of positive health and wellbeing outcomes.
The Culture + Kinship program created opportunities for participants to explore and celebrate their Aboriginal identity in a positive and affirming context as opposed to the racism and discrimination they may have experienced elsewhere.
By participating in this program, and connecting with Culture, they gain more pride in their Culture, a stronger sense of identity and the opportunity to gain cultural knowledge and skills.
By caring for Country and working together to collectively solve problems, Community members experience self-determination that leads to increased educational prospects and economic prosperity.
By connecting with their Community in a cultural context, participants experience increased mental health and increased self-confidence. 
ACCOs experience value through gaining an opportunity to work with the Community to create learning and sharing opportunities.
Program participants are excited to share their positive experience with their friends and family which leads to more people in the Community knowing about their ACCO. 
Government experiences value as a result of Community members making proactive health choices and enabling Aboriginal communities to self-determine health, wellbeing and safety.
Budja Budja Aboriginal Co-Op partnered with VACCHO for the Gariwerd Youth Connections program as a part of a Healthy Communities initiative.
The pilot program aimed to support Culture and Kinship by bringing youth together on Country, connecting them with other youth, creating peer networks and a sense of belonging to Community.
The Gariwerd Youth Connections program conducted a three-day camp for children aged 5-11 years old, and an overnight camp for children aged 12-17 years old.
Across the camps, 55 Aboriginal and Torres Strait Islander children came together and took part in a range of activities such as Hip-Hop dancing, archery, boomerang throwing, art, song, storytelling, high ropes climbing, bush walking, and ceremony.
Enquiries from Members can be made by filling out and submitting this form.
Find your local ACCO
Locate your nearest Aboriginal Community Controlled Health Organisation with VACCHO's Members' map
Policy & Advocacy: Disabilities
Advicating for meaningful choice and control over culturally safe disability services.
Learning Hub
Looking for a career change? Or want to upskill and gain qualifications in Aboriginal health care? Check out our courses.
On Solid Ground
Our five-year strategy focused on strength, sustainability and innovation for generational change.