One of the most common health problems for Aboriginal and Torres Strait Islander people is vision impairment and poor eye health.
The good news is that many health issues causing poor eye health are preventable, treatable or manageable. VACCHO, together with our Members and health partners, work hard to ensure Community have easy and accessible eye health care.
Get involved! Your voice guides eye health
VACCHO have been gathering Community voices and suggestions to inform eye care activities since 2019. If you have any concerns about your access to eye-health or eye-health care in general, there are couple of different ways you can raise your concerns to provide Community with better eye-health outcomes. We welcome your thoughts and suggestions via email, phone calls and yarning together.
Join our weekly Koori Eye-health Community Yarn
Every Friday from 2pm
The Koori Eye-health Community has a regular yarn every Friday from 2pm starting late January 2023.
Community are invited to participate in our weekly Koori Eye-health Community Yarn which will take place online (via Microsoft Teams). Face to face sessions will also be scheduled at local Aboriginal Community Controlled Health Organisations. More information to come.
Each month a theme has been selected to discuss during the yarning session:
January: Looking back to move forward
February: Retinal Cameras adding value at the ACCOs
March: Eye-heath workforce at ACCOs
April: Patient Journeys
May: Focus on early years (kids eye health)
June: Tracking eye-health
July: Outreach & Inreach
August: Eye-health Business
September: Stay Well Stay Home Chronic Condition Collaboration
October: World Sight Day theme-based yarning
November: Aspirations for 2024.
Become a Community Representative on the Eye-health Stakeholder Group
Participate as Community Representatives on the Victorian Aboriginal Eye-health Stakeholder Group (AESG-V).
Request a copy of the Terms of Reference by contacting our Statewide Eye-health Co-ordinator and receive the Zoom invite for Quarterly meetings with State and Federal Govt Aboriginal Eye-health representatives, fundholders and service-providers.
Health promotion RESOURCES
VACCHO have developed and collected the following resources to provide information to Community about common eye-health concerns.
Download and print these trifold brochures
Children's Eye-health social media pack – downloadable digital assets and social media posts your organisation can share on their social media channels to help promote eye-health for kids and families.
WATCH: Lorraine's Story. A video about living with sight loss

WATCH: Our Eyes, Our Journey – a video about managing sight loss
WATCH: Looking Good – a project developed and financed by the Fred Hollows Foundation in association with Anyinginyi Health Aboriginal Corporation.
Education and Training
VACCHO provides access to online self-directed training, some of which are CPD (continuing professional development) eligible.
Own and run an Optical Dispensing business
EXPRESSIONS OF INTEREST ARE NOW OPEN
Get an inside view of the glasses business! If you are passionate about eye health and caring for Community, this opportunity could be the start of your eye health career!
We are offering a one-time opportunity in the eye health industry for Aboriginal and Torres Strait Islander people living in Victoria.
Get experience work on the shop floor
Meet Aboriginal entrepreneurs
Take a free online training course
Learn about how lenses are made
The Certificate IV in Optical dispensing is the minimum qualification for entry into this career.
VACCHO can provide assistance by arranging site-visits, work experience programs and self-directed online learning to Aboriginal and Torres Strait Islander people in Victoria who wish to explore the field before enrolling in the 18 month traineeship.
The goal is to scale up the $10 glasses program, known as Victorian Aboriginal Spectacle Subsidy Scheme (VASSS), with Aboriginal-owned and run businesses as suppliers of optical dispensing services.
For more information contact the Statewide Eye-Health Co-ordinator to register your interest.
Download the flyer here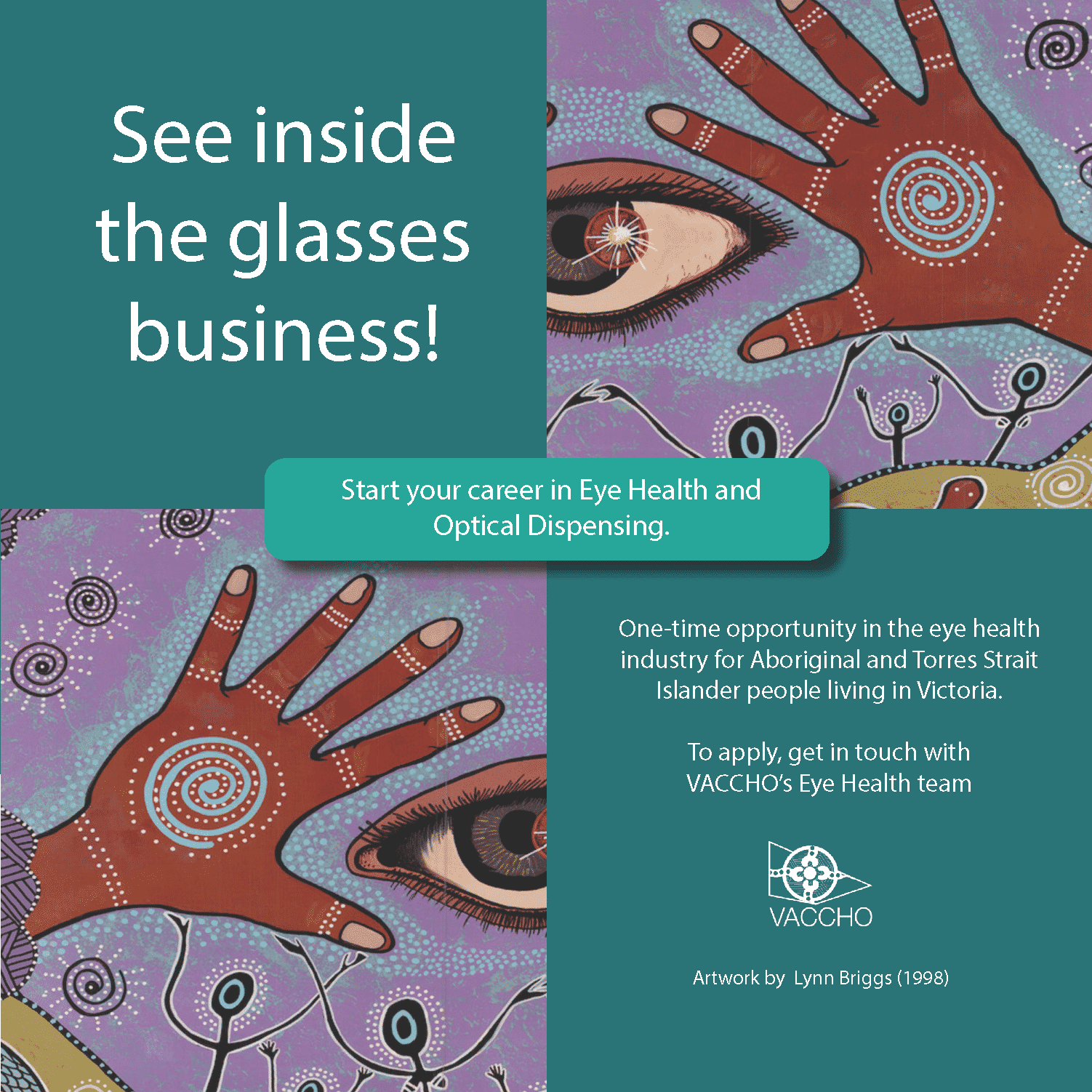 Looking Deadly 
The Looking Deadly Module provides online self-paced training in eye health relevant to the Aboriginal and Torres Strait Islander Community in Victoria. It includes content from various Cert IV skillset units such as Provide Information and Strategies in Eye Health (HLTAHW030), Supervise Health Care Team (HLTAHW062), and Facilitate Access to Tertiary Health Services (HLTAHW043).
It comprises four independent courses:
Eye Health Statistics
Anatomy of the Eye
Common Eye Conditions
Eye Health and Vision Care
Before commencing the courses, participants will be required to sit a pre-test. When participants successfully complete all four course and receive a pass grade on their post-test, a Certificate of Completion will be issued which can count toward CPD as endorsed by the National Association of Aboriginal and Torres Strait Islander Health Workers and Practitioners (NAATSIHWP).
The Looking Deadly Module takes approximately 2 hours to complete.
Contact the Statewide Eye-Health Co-ordinator to register and receive login access.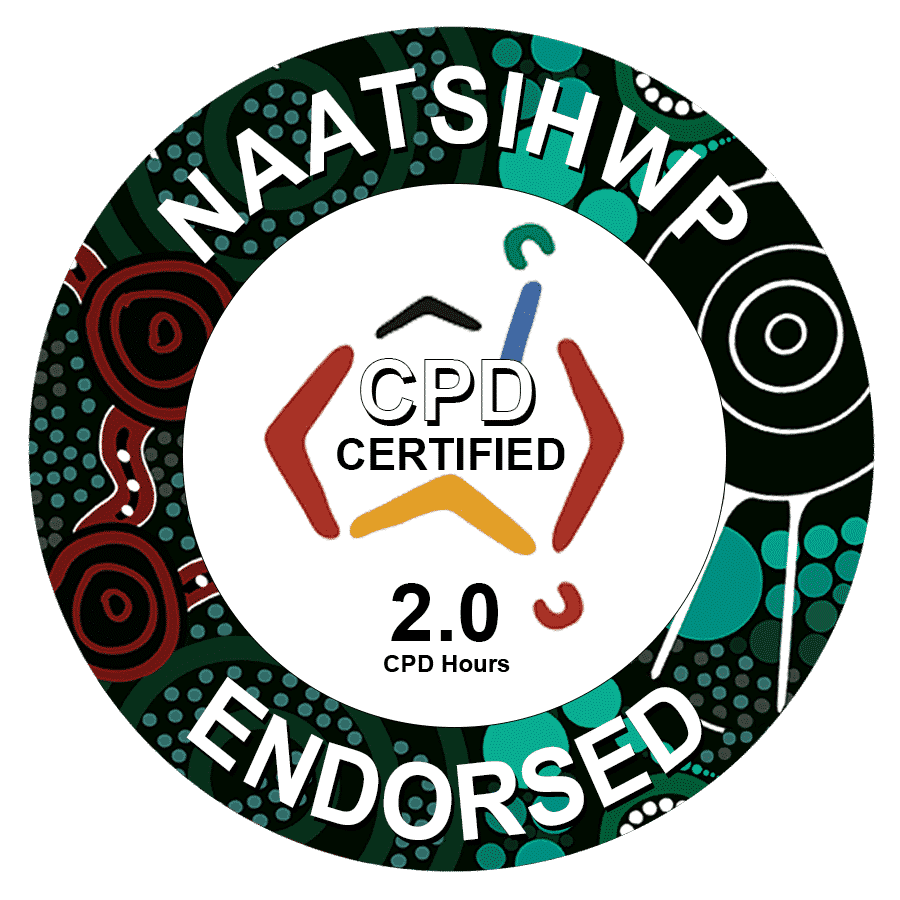 Koori MIST
The training is based on an adaptation of the Melbourne Initial Screening Test (MIST), which was designed by the School of Orthoptics, La Trobe University, Victoria, and in 2017 was copyrighted by State Government of Victoria.
NOTE: MIST is designed to only detect visual problems for referral purposes. MIST is not to be used as a diagnostic test.
The online self-directed training enables early-childhood educators and parents/carers of pre-school age children (3-5 years of age) to identify suspected problems with a child's sight. The Testing Kit includes a booklet that provides the instructions and content, as well as other material and resources necessary for culturally safe administration of an adaptation of the Melbourne Initial Screening Test (MIST). It has been designed for checking vision of Aboriginal and Torres Strait Islander children with the help of staff at Early Learning Centres or Kinders.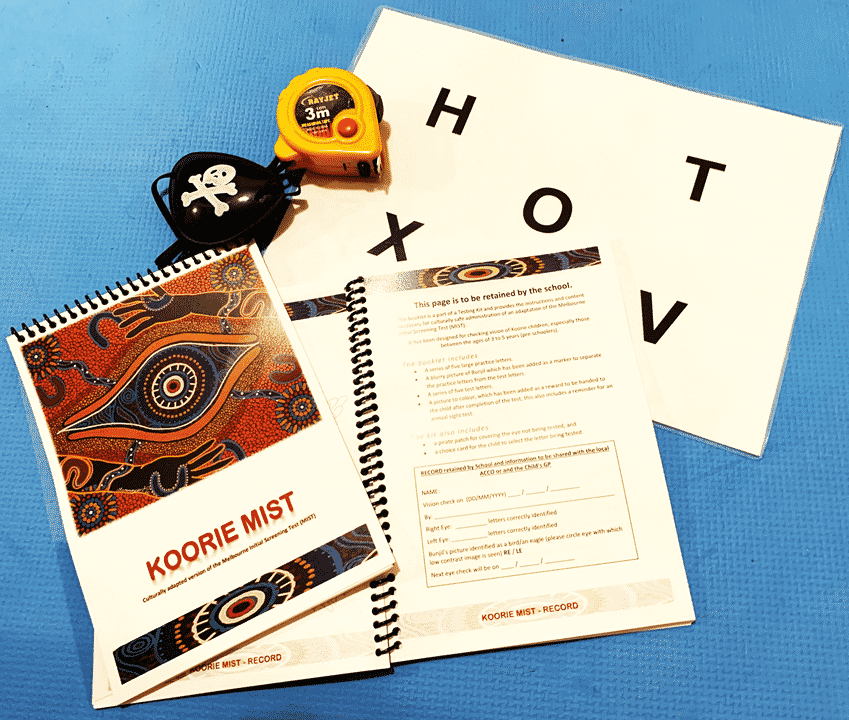 Looking to upskill on your eye health knowledge and capaibility?
Below are several external resources available for GPs and primary-level clinicians. VACCHO is also developing a VET-accreddited standalone Skillset.
Eye Health in General Practice – GP training webinar delivered by North Western Melbourne PHN with support from Rural Workforce Agency Victoria (RWAV). RWAV supported three PHNs to deliver training for GPs on how to use the HealthPathways portal for eye-care. The recording is available.
Accredited eye health training – Online modules by Vision Initiative. These modules are suitable for primary health care and allied health professionals
Instructional eye videos from the Provision of Eye Health Equipment and Training (PEHET) project by the Brien Holden Vision Institute
Remote Area Health Corps: E-learning eye health

Introduction to Indigenous Health
Eye health and diabetes
Primary eye care checks
About Eye Health at VACCHO
VACCHO is a key partner and representative of the Korin Korin Balit-Djak. The VACCHO Eye Health Program is funded by the Victorian Government Department of Health which funds the Statewide eye-health Coordinator position at VACCHO, to work collaboratively with Member organisations and key local, state and national stakeholders to enable sight health and well-being of Aboriginal and Torres Strait Islander people living in Victoria.
We do this through:
Systems improvements for eye-health,
Establishing and maintaining culturally safe local care pathways and
Policy, advocacy and co-ordination for eye-health
VACCHO presents a strong voice for Aboriginal and Torres Strait Islander people in Victoria in the eye-health space through:
Representation on policy and advocacy committees such as:
Statewide Aboriginal Eye-health Stakeholder Group (AESG-V)
Vision 2020 Aboriginal and Torres Strait Islander Policy Committee
NACCHO Aboriginal Eye-health Advisory Group
Partnerships and working in collaboration with a range of stakeholders including:
Victorian Department of Health
Commonwealth Government Department of Health
Vision Initiative (Vision2020 Australia)
Australian College of Optometry
Guide Dogs Victoria
Optometry VIC/SA

Royal Australian and New Zealand College of Ophthalmologists
Royal Victorian Eye and Ear Hospital
Rural Workforce Agency Victoria
University of Melbourne, Indigenous Eye Heath Unit
Victoria and Tasmania Primary Health Network Alliance (VTPHNA)
Vision Australia
For more information or to find out how we can work with you and/or your Member organisation, get in touch with us by filling out and submitting the form below or call 03 9411 9411
Enquiries from Members can be made by filling out and submitting the form below. Alternatively, you can email us directly members@vaccho.org.au