Nutrition & Physical Activity
Food security and access to healthy, affordable and culturally appropriate food is key for vibrant, healthy, self-determining Aboriginal and Torres Strait Islander Communities in Victoria.
VACCHO's Nutrition team works collaboratively with Member ACCOs and key stakeholders to improve food security and nutrition outcomes for Aboriginal and Torres Strait Islander communities. We do this by:
partnering with, and contributing to, Rethink Sugary Drink
developing nutrition resources for Member ACCOs and Community
supporting Member ACCOs with healthy catering policies
nutrition research and evaluation.
For more information please contact our Nutrition team.
The FoodPATH Project
The Food Policies for Aboriginal and Torres Strait Islander Health (FoodPATH) project aims to empower Communities to determine the actions needed to promote healthier food environments.
We are seeking ACCOs to in Victoria to get involved!
Aboriginal Data and Action on Prevention Together
The ADAPT report provides valuable insight into the links between nutrition, physical activity and wellbeing amongst Aboriginal and Torres Strait Islander children in regional Victoria. This report was produced in partnership with Deakin University's Institute for Health Transformation.
First 2000 days - Nutrition and active play for Aboriginal bubs and families.
VACCHO is pleased to be working with Fiona Mitchell and the Infant team from Deakin University to support healthy eating and active play for Aboriginal bubs and families across the first 2000 days of life.
If you're interested in knowing more or being involved in the project, get in touch!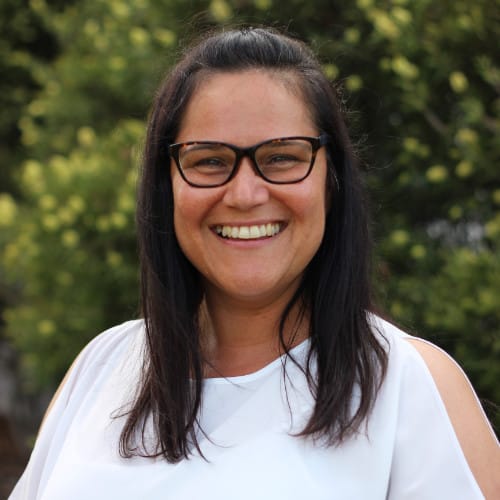 About Fiona
"I am a Mununjali Bundjalung woman from southeast Queensland living on Gunditjmara Country in Warrnambool. I have over 10 years' experience in child and adolescent mental health and wellbeing with the majority of my time being in far west New South Wales. Due to the rich experiences I had and the knowledge gained over this time,  I decided to do my PhD broadly focus on healthy eating and active play between Aboriginal mums and bubs. I'm passionate about the health of our young ones as they are going to be our future decision makers and knowledge holders. I'm looking forward to working with Community and VACCHO so that this can be achieved."
Resources for ACCOs and Community members in Victoria
The VACCHO Nutrition team has developed a range of resources to download. print, display, distribute and keep.
Artwork by Tamara Murray (Barkindji'), titled 'Eat well live long'
Key documents, reports and publications related to Aboriginal and Torres Strait Islander Community nutitrition.
Enquiries
Got a query? Get in touch by filling out and submitting the form below or by phone 03 9411 9411.