One of the key pieces of artwork featured as part of the Beautiful Shawl Project is now proudly and permanently exhibited at the Geelong BreastScreen Clinic as a respectful display of cultural safety.
Talented Arrernte artist, Jasmine-Skye Marinos, unveiled her artwork Kardeeneeyoo Toort-Barram at an official event on Friday 1 July with family, VACCHO and BreastScreen Victoria in attendance.
Jasmine-Skye explained that Kardeeneeyoo Toort-Barram means 'Morning Stars' in Wathaurong language. The rising sun in the artwork represents a new day and the stars above are our ancestors watching over us.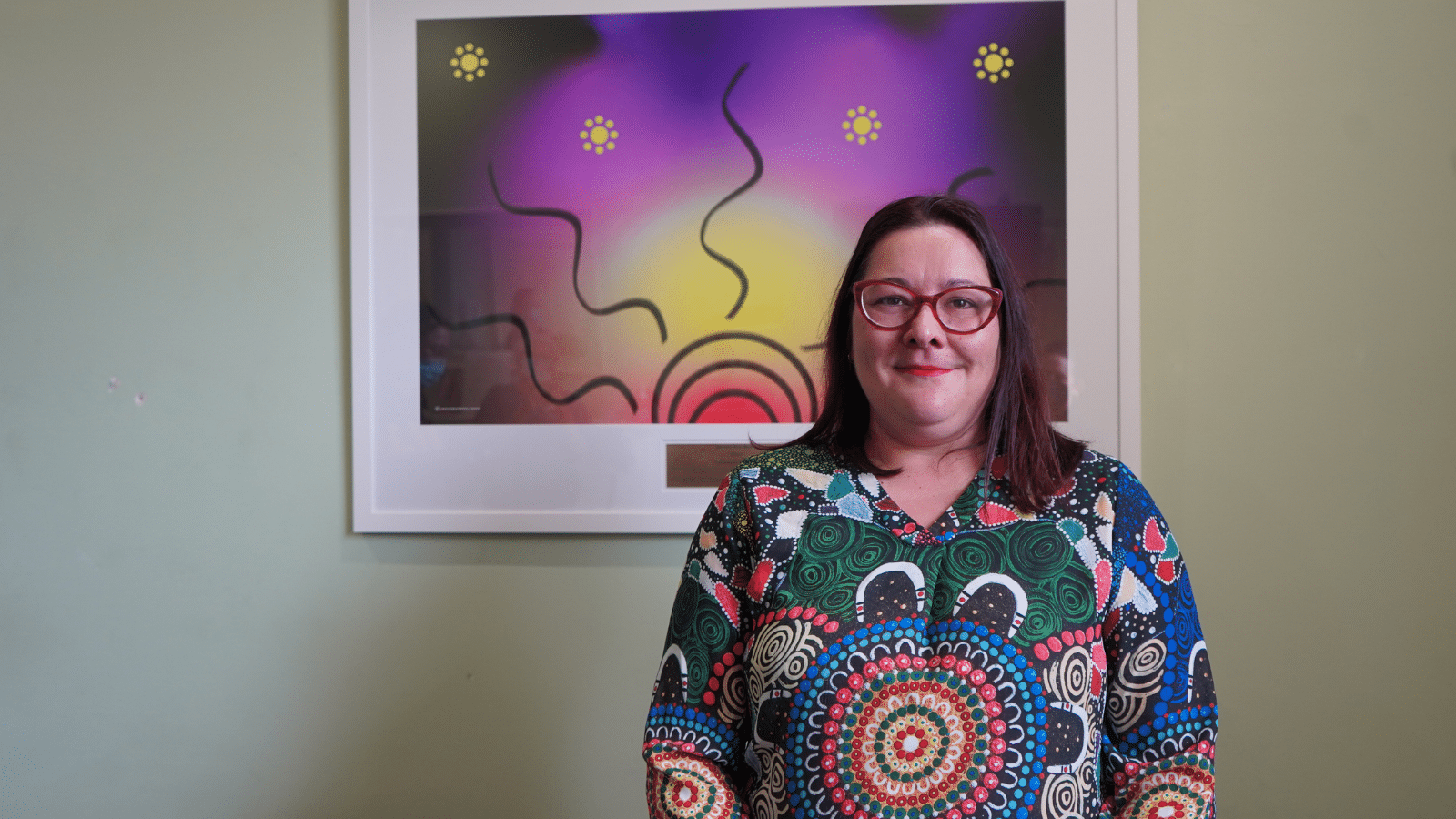 Above: Jasmine-Skye's "Kardeeneeyoo Toort-Barram" will be on permanent display at the Geelong BreastScreen Clinic
Cover Image: Cath MacDonald (VACCHO), Kristi Watts (Wathaurong Aboriginal Co-op), Jasmine-Skye Marinos (Artist) and Milva Franz (BreastScreen Victoria)
 The bright and colourful piece is on display in the waiting area of the Geelong BreastSceen Clinic providing Aboriginal and Torres Strait Islander women a sense of comfort and connection to Culture prior to their important check-up.
To increase cultural safety in the clinical environment, BreastScreen Victoria would like to display more Beautiful Shawl Project artworks in selected BreastScreen clinics throughout Victoria.
VACCHO was honoured to attend the official unveiling and commends the Geelong BreastScreen Clinic for improving cultural safety for Aboriginal and Torres Strait Islander women.
The Beautiful Shawl Project is an award-winning collaborative effort between VACCHO, BreastScreen Victoria, the Victorian Aboriginal Health Service and 11 Aboriginal Community Controlled Organisations in Victoria. The Project aims to help local Aboriginal and Torres Strait Islander women feel more comfortable, respected, and culturally safe throughout their breast screening experience.
Each Aboriginal and Torres Strait Islander women who has a breast check-up with BreastScreen Victoria will receive a Beautiful Shawl that is unique to their Community and has been designed by a local Aboriginal and/or Torres Strait Islander artist. Approximately, 580 Beautiful Shawls have been received by women around Victoria in the past 12 months.
Click here for more information about the Beautiful Shawl Project and BreastScreen Victoria's mobile screening initiative.