VACCHO extends its warmest congratulations to all 65 students who graduated and received their diplomas at VACCHO's Registered Training Organisation (RTO) Graduation Ceremony at the Melbourne Museum earlier this month.
Over 170 people attended the special event – VACCHO's first celebration of student success since 2019 and impacted by COVID & lockdowns.
The graduates studied a range of courses ranging from Health – Diploma, Certificate IV and Certificate III; to Social and Emotional Wellbeing programs with Community Services, Diploma of Counselling, and the organisation's leadership and Business programs.
VACCHO's Education and Training Unit (ETU) continues to play a key role in achieving the short and long-term goals of VACCHO's Membership, as well as the development of a highly skilled Aboriginal and Torres Strait Islander health workforce and Aboriginal community-controlled health sector in Victoria.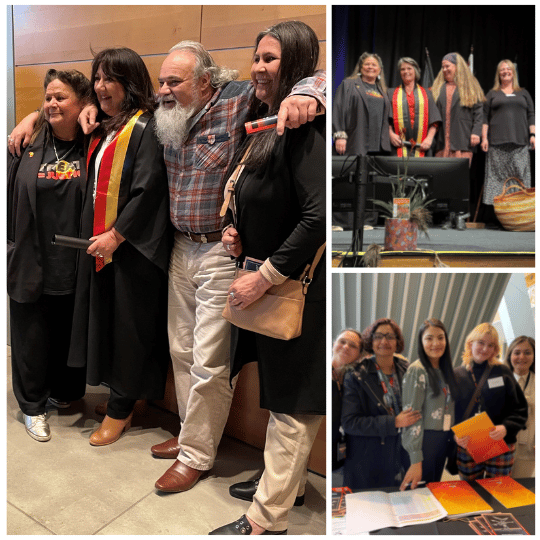 VACCHO pays tribute to ETU Executive Director Peter Mitchell, Tammy Chatfield Manager Health and Culture, Nean Tatnall Manager Health Program Delivery, and the dedicated team for their vision and staunch leadership in the education space. VACCHO Chairperson Michael Graham was incredibly proud to see the graduates presented with their certificates.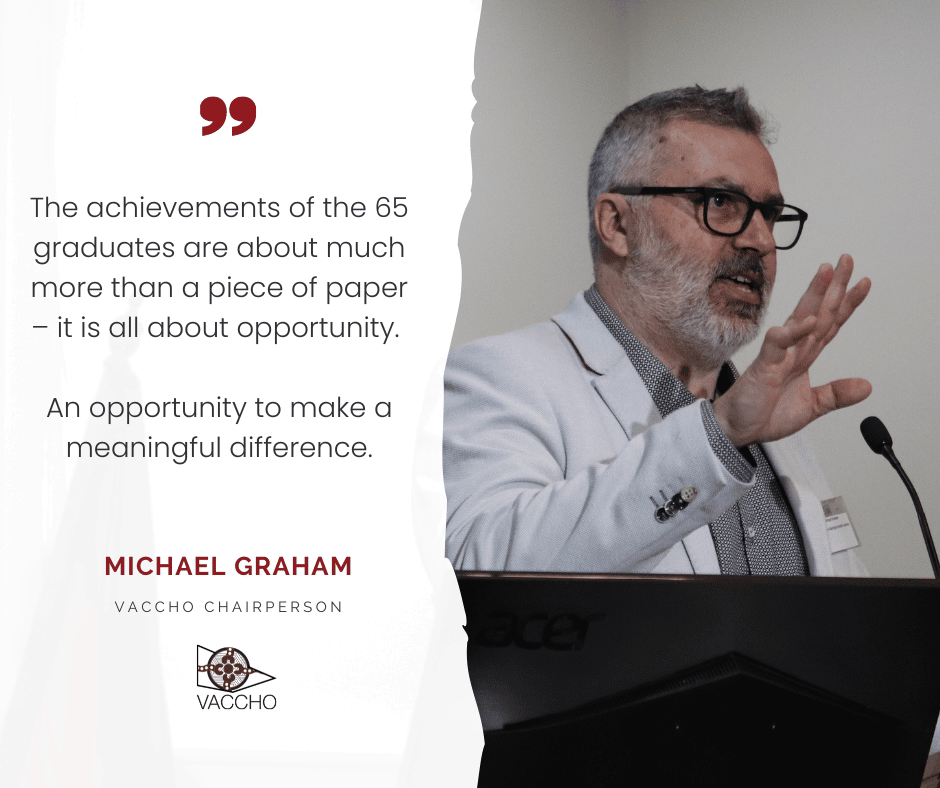 "The achievements of the sixty-five graduates are about much more than a piece of paper – it is all about opportunity. An opportunity to make a meaningful difference."
"The clinical support and engagement with the community that the graduates will provide is vital in the betterment of the health and wellbeing of Aboriginal and Torres Strait Islander people in Victoria."
"I look forward to working with many of the graduates and seeing them have long and rewarding careers working in the Aboriginal and Torres Strait Islander health sector."
VACCHO pays tribute to Aboriginal Community Controlled Health Organisations across Victoria for their important work in building and contributing to the students' success.
VACCHO also sincerely thanks the teams at The Department of Jobs, Precincts and Regions, Department of Education, and National Indigenous Australians Agency who provided vital support and engagement in this space.
Want to study at VACCHO? Check out our accredited courses