VACCHO celebrated 21 years of culturally responsive maternity care in Victoria at the 2022 Koori Maternity Services Gala Dinner.
The special gathering at the Melbourne Museum paid tribute to the founding members and inspirational leaders of the Koori Maternity Services program and outlined the future for Aboriginal maternity services in Victoria.
The evening kicked off in style with an incredible Welcome To Country courtesy of Mandy Nicholson and a show stopping Djirri Djirri Dance performance in Millari Gardens.
Special guests were also treated to powerful, and deeply personal presentations from Commissioner Sue-Anne Hunter, Professors Yvette Roe and Sue Kildea, and VACCHO's CEO Jill Gallagher.
A special musical performance of 'My Country' featuring Scarlette Mitchell and writer Jill Gallagher on backing vocals received a standing ovation.
VACCHO pays tribute to Senior Project Officer Suzanne O'Shannessy, Storm Henry, and the dedicated team for their vision and staunch leadership in the KMS space.
Koori Maternity Services is uniquely Community-driven and has been an integral part of the State's maternity service system for over 21 years, offering flexible, holistic, culturally responsive care for Aboriginal and Torres Strait Islander mothers, Boorai and families.
First established in 2000, the program was implemented and developed at a community level by Aboriginal people for Aboriginal people. Koori Maternity Services work in partnership with women, families and the local community to ensure that service delivery is culturally safe, responsive and meets the needs of individuals and community.
VACCHO recognises that healthy pregnancies and positive early parenting experiences have the power to transform the health and wellbeing of the entire Aboriginal community.
VACCHO CEO Jill Gallagher says the evening was a special night that paid tribute to the tireless work and dedication of the KMS team in creating vibrant, healthy, self-determining communities.
"Since its establishment in 2000 the Koori Maternity Service Program has grown from strength to strength expanding from eight to fourteen sites. It's quite the achievement and testament to the work the team does to embed culture and health promotion activities into holistic pregnancy care."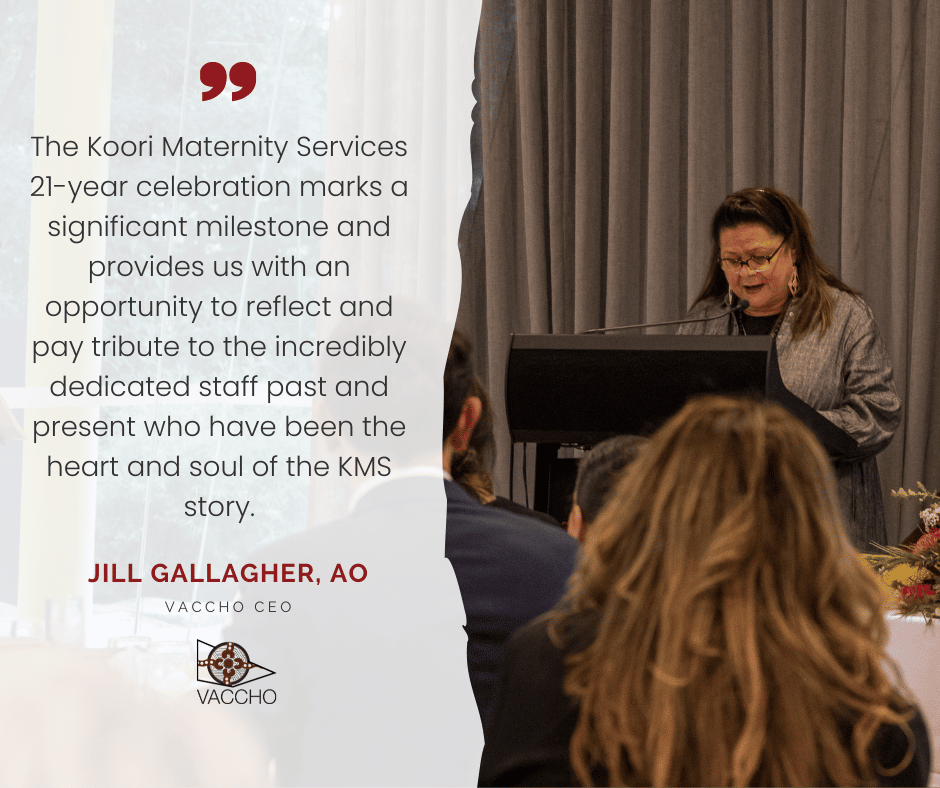 "The Koori Maternity Services 21-year celebration marks a significant milestone and provides us with an opportunity to reflect and pay tribute to the incredibly dedicated staff past and present who have been the heart and soul of the KMS story." "The engagement, the personalised, culturally safe care provided by the KMS team has delivered incredibly positive health and wellbeing impacts for Aboriginal and Torres Strait Islander families across Victoria."