WARNING: VACCHO advises that the following Media Release contains suicide references.
The Victorian Aboriginal Community Controlled Health Organisation (VACCHO) is disappointed by the Federal Government's decision to cut the number of subsidised psychologist visits available through the Better Access program.
Yesterday Federal Health Minister Mark Butler announced patients would only be able to claim Medicare rebates for 10 visits to a psychologist or allied mental health service next year, down from the 20 visits that people have been able to access since August 2020.
VACCHO are extremely concerned about the impacts the substantial reduction in subsidised support will have on the health and wellbeing of the Aboriginal and Torres Strait Islander Community in Victoria.
2022 has been a particularly challenging year for Community with a Coroners Court of Victoria Report highlighting an alarming 75% increase in Aboriginal and Torres Strait Islander suicides in Victoria in the last twelve months.
Disturbingly, suicide is the fifth leading cause of death for Aboriginal and Torres Strait Islander people.
The 2022 Closing The Gap Annual Report also painted a disturbing picture, showing that key target areas are worsening including incarceration rates, suicide rates, and child-removal rates are also deteriorating.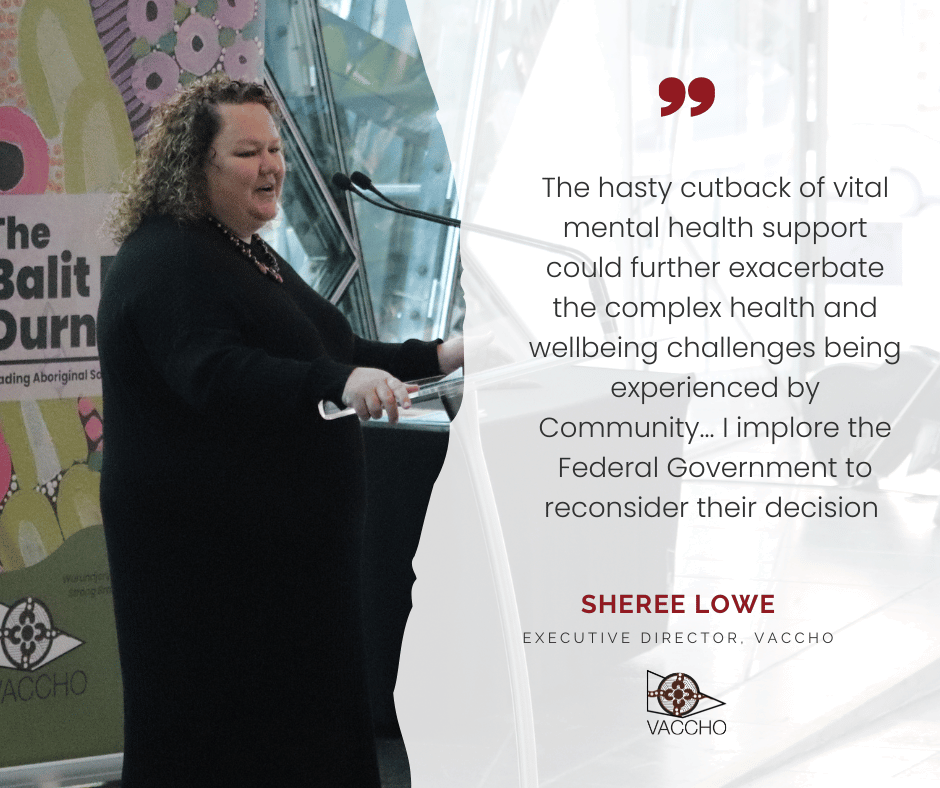 VACCHO were proud to launch the Balit Durn Durn Centre of Excellence in Aboriginal Social and Emotional Wellbeing in May of this year.
The Balit Durn Durn Centre is an initiative designed to foster innovation and improvement in Social and Emotional Wellbeing practice, policy, and research.
Executive Director of Social and Emotional Wellbeing Sheree Lowe is concerned about the consequences the rapid scaling back of vital mental health and wellbeing support will have on Aboriginal and Torres Strait Islander families in Victoria.
"The 2022 Closing The Gap Annual Report shows that Aboriginal and Torres Strait Islander people continue to fall through the cracks of a fragmented and culturally unsafe mental health system."
"The systems in place fail to recognise our wise and ancient cultural values – and Aboriginal ways of knowing, being, and doing. Our Community has been left with a legacy of grief and trauma that compounds mental health and wellbeing issues."
"It is important to be mindful that life stressors such as chronic illness, incarceration, disability, inadequate or overcrowded housing, and systematic racism continue to have a major impact on the health and wellbeing of Community."
"The hasty cutback of vital mental health support could further exacerbate the complex health and wellbeing challenges being experienced by Community – at a time when there are high COVID numbers and cost of living and housing pressures severely impacting many Australians."
"I implore the Federal Government to reconsider their decision and apply an approach that meets people where they are at, addresses their needs and helps Community heal. A flexible, consistent, and responsive system is what our people need at this time of uncertainty."
NOTE: Your social and emotional safety is important. If this has brought up any concerns or issues for you, please have a yarn with Yarnin Safe'n'Strong (1800 959 563) or 13YARN (13 32 16).