VACCHO is encouraging Community to connect with family and friends and to look out for one another ahead of another distressing Invasion Day on Thursday 26 January.
January 26 is a reminder of the painful legacy of invasion – a legacy that continues to have a devastating impact on the health and wellbeing of Aboriginal and Torres Strait Islander people in Victoria.
VACCHO finds it insensitive and highly disrespectful that January 26 continues to be marked formally as a day of celebration by the nation.
For the Aboriginal and Torres Strait Islander community of Victoria January 26 symbolises a brutal and rapid invasion that brought with it theft of children from their parents, the introduction of disease, massacres, theft of land, and the widespread repression of Aboriginal culture.
These atrocities continue to have devastating impacts on the health and wellbeing of Community, culminating in a significant gap in life expectancy between Aboriginal and non-Indigenous people.
Deaths in custody, intergenerational trauma, institutionalised racism, higher rates of chronic illness, children in out of home care, elders dying before they are old enough to access the Aged Pension – this is the legacy of January 26.
November's 2022 Closing The Gap Report data confirmed that important key areas continue to worsen including suicide rates, incarceration rates, and child-removal rates.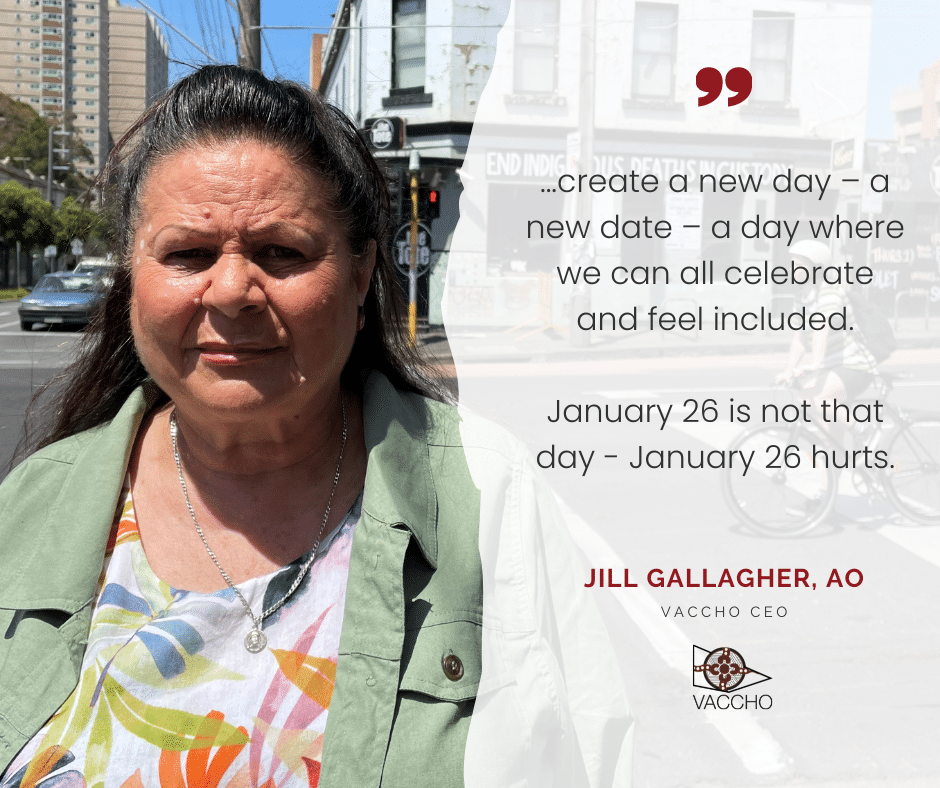 VACCHO CEO Jill Gallagher believes it is time to create a new day that is inclusive for everyone.
"It is time for us to press the reset button and create a new day – a new date – a day where we can all celebrate and feel included. January 26 is not that day – January 26 hurts."
"Change needs to be led by Aboriginal and Torres Strait Islander people, with our voices at the forefront, but we need allies around us, and we need a focus on educating all Australians about the true history of this country."
"We also need a bold and brave government to make this change. Last year we saw the government listen to Aboriginal leaders and free the flag – we must keep the momentum going and do something about this date."
"The time for change is well and truly overdue and needs to happen now."
NOTE: Your social and emotional safety is important. If this article has brought up any concerns or issues for you, please have a yarn with Yarnin Safe'n'Strong (1800 959 563) or 13YARN (13 32 16).