The Cervical Screening Test is one of the best ways to prevent cervical cancer by finding changes before they become cancer. Cervical cancer is largely preventable through human papillomavirus (HPV) vaccine and regular cervical screening.
At June 2018, 37% of Aboriginal and Torres Strait Islander women had a cervical screening within the last three years. According to the Australian Institute of Health and Welfare, over 70% of cervical cancers occurs in women who are underscreened (overdue for a cervical screening).
The National Cervical Screening Program aims to prevent cervical cancer with regular testing. The Cervical Screening Test looks for HPV infection so that it can be found early, before it has a chance to become an abnormal cell, which could lead to cervical cancer.
A Cervical Screening Test every five years is recommended for women and people with a cervix aged 25 to 74 who have ever had sexual contact with anyone of any gender.
From 1 July 2022 anyone eligible for a Cervical Screening Test under the National Cervical Screening Program (women and people with a cervix aged 25-74) will have the choice to screen either through self-collection of a vaginal sample using a simple swab (unless a co-test is indicated), or clinician-collection of a sample from the cervix using a speculum.
Cervical screening, inclusive of self-collection, is not appropriate for participants who require a co-test, for example because they:
• are symptomatic (e.g., experiencing unusual vaginal bleeding, pain or discharge),
• are undergoing Test of Cure surveillance,
• have had a total hysterectomy with a history of high-grade squamous intraepithelial lesions, and
• have been exposed to Diethylstilbesterol (DES) in utero.
Book your Cervical Screening Test
Make an appointment with your doctor or nurse at your local Aboriginal health service or regular doctor's practice.
To find out more about cervical screening call the Cancer Council Victoria on 13 11 20.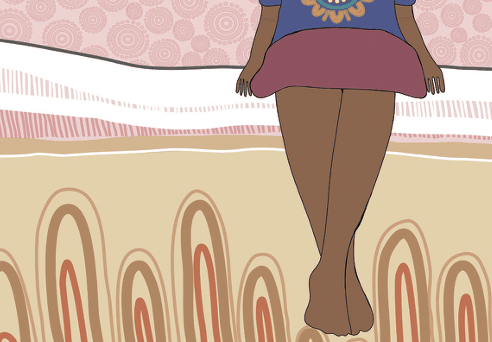 Talking to Community about Breast, Cervical and Bowel Screening – FREE self-paced online training courses available to Aboriginal Health Workers, Health Promotion Officers and allied health professionals to increase knowledge and build confidence to discuss screening, early detection, and immunisation messages with Community. There are three interactive course highlighting key messages on breast, cervical and bowel screening. Each course takes 30 minutes.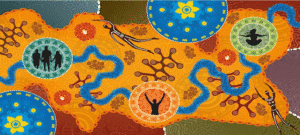 Artwork by Yorta Yorta and Gunnai Artist, Dixon Patten Jnr
Latest news for cervical screening
New Resources for Self-Collected and Clinician-Collected Cervical Screening
We're working with the Australian Centre for the Prevention of Cervical Cancer (ACPCC) to build primary care clinicians' ability to provide more culturally safe and empowering cervical screening experiences for Aboriginal women and people with a cervix.
From August 2022, Victorian Aboriginal self-collection kits for cervical screening are available to all Victorian ACCOs that provide cervical screening. The kits, featuring stunning artwork by Yorta Yorta, Dja Dja Wurrung and Gamilaroi artist Madison Connors, include:
• An Aboriginal designed zip-up pouch
• A self-collection patient instruction card (how to collect the sample)
• A non-transparent specimen bag with the swab.
For women and people with a cervix who choose a clinician provided cervical screening test, and/or whose screening result requires them to take further follow up tests, a towel is available featuring Madison's artwork for use during these consultations that they can keep.
VACCHO is committed to achieving equitable access to culturally safe and empowering cervical screening services for all Aboriginal and Torres Strait Islander community members in Victoria eligible for cervical screening. We're working to ensure that these self-collection kits are available to our mob no matter where they access primary health care services.
For any questions about the self-collection kits, contact the Cancer Journey Team at VACCHO.
Human papillomavirus (HPV) Vaccine
The HPV vaccine is one of the best ways women and people with a cervix can reduce their chances of developing cervical cancer. The HPV vaccine protects against nine types of the human papillomavirus. 90% of cervical cancers in women is caused by contracting the HPV virus. The vaccine is most effective when given between the ages of 12-13.
The HPV vaccine is provided free in secondary schools to all children aged around 12-13 years under the National Immunisation Program. Two doses are given at least six months apart.
It's important all children get vaccinated to protect themselves against HPV-related illnesses, including cancer.
Find out more on the Cancer Council's HPV website.
Download Cancer Council's Help Keep our Mob HPV Free brochure.
Using art to start a conversation about cervical screening
Yorta Yorta, Dja Dja Wurrung and Gamilaroi woman and artist Madison Connors talks about her collaborative project with Cancer Council Victoria. The project 'Sistas Get Checked' uses artwork to convey cervical screening messages to Aboriginal and/or Torres Strait Islander communities.
Get in touch with VACCHO's Cancer Journey Team
Got a query? Get in touch by filling out and submitting the form below or by phone 03 9411 9411.