In partnership with Diabetes Victoria, VACCHO has developed a range of information and resources for ACCOs to support their Communities and provide people with the tools and knowledge they need to safely navigate their diabetes journey.
Feltman and Feltmum Manual
For Aboriginal and Torres Strait Islander health workers and practitioners.
Feltman is a diabetes education tool developed by VACCHO and Diabetes Victoria.
Feltman is a life-sized mat that shows the key organs involved in and affected by diabetes. It was developed to be used with Aboriginal Communities to explain what happens in the body of someone who is living with diabetes.
The Feltman manual is designed for Aboriginal and Torres Strait Islander health workers and practitioners as a guide on how to us Feltman and Feltmum to talk to adults about diabetes.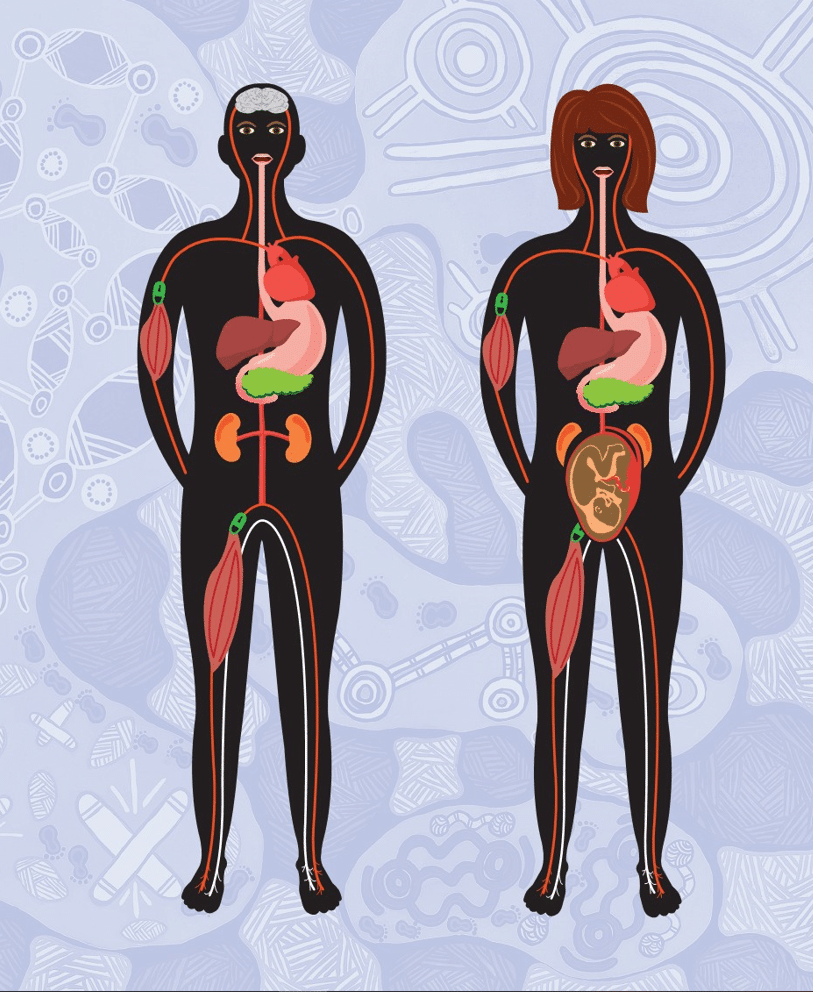 Downloadable FlipBooks
These helpful flipbooks are free to download for ACCOs and Community Members.
ACCOs may also request free hard copies of these resources by contacting us.
Grapevine
Grapevine is a quarterly newsletter from Diabetes Australia for health workers and others working in the Aboriginal and Torres Strait Islander community.
Grapevine includes information about:
Diabetes news
New and current programs at Diabetes Victoria
New and current resources
Events and activities
Healthy recipes
Peer Support
The peer support program is a service offered by Diabetes Victoria to facilitate and empower all members of diabetes support groups.
You can join a support group to share common experiences with other members of the Community and discuss your concerns, goals, or even just your interests. These groups offer a valuable chance to improve quality of life through mutual support, education, and friendship with like-minded people who know what you're going through from first-hand experience. They can also inspire and cause change in the wider community!
If you would like to join the Peer Support Program, are interested in starting a Peer Support Group, or are already running one, contact Diabetes Vic.
Diabetes Australia Resources
Fighting Diabetes in Your Community
Diabetes Australia has developed helpful information regarding the National Diabetes Services Scheme (NDSS) specifically for Aboriginal and Torres Strait Islander people and communities.
The materials, including videos, posters and informational flyers, explain:
the different kinds of support available to people who sign up for the NDSS
how the NDSS can help people and communities to live well with diabetes
how the NDSS helps to provide a more accurate picture of diabetes in Aboriginal and Torres Strait Islander communities across Australia.
Australian Indigenous HealthInfoNet
Australian Indigenous HealthInfoNet is a web resource that aims to inform practice and policy in Indigenous health by providing an easily accessible evidence base via the internet.
What is Type 2 Diabetes?
Type 2 diabetes is a condition in which the body becomes resistant to the normal effects of insulin and gradually loses the capacity to produce enough insulin in the pancreas.
The condition is most often hereditary, so if someone has a family member with diabetes, their risk of getting diabetes is greatly increased. There is also a higher risk of having diabetes for Aboriginal and Torres Strait Islander peoples.
The exact genetic causes of type 2 diabetes are currently unknown.
People may be able to significantly slow or even stop the progression of the condition through changes to diet and increasing their amount of physical activity.
Understanding Type 2 Diabetes
Type 2 diabetes:
is diagnosed when blood glucose levels are high due to insulin produced by the pancreas not working effectively and/or the cells of the body do not respond to insulin effectively (known as insulin resistance). Over time, the condition progresses and the pancreas does not produce enough insulin.
represents 85–90% of all cases of diabetes.
usually develops in adults over the age of 45 years but is increasingly occurring in younger age groups including children, adolescents, and young adults.
is more likely in people with a family history of type 2 diabetes or from particular ethnic backgrounds, such as Aboriginal and Torres Strait Islander people.
for some, the first sign may be a complication of diabetes such as a heart attack, vision problems or a wound that does not heal well.
is managed with a combination of regular physical activity, healthy eating, and weight reduction. As type 2 diabetes can be progressive, many people will need oral medications and/or insulin injections in addition to lifestyle changes over time.
Enquiries from Members can be made by filling out and submitting this form.