Gathering of Mob
November 10

-

November 12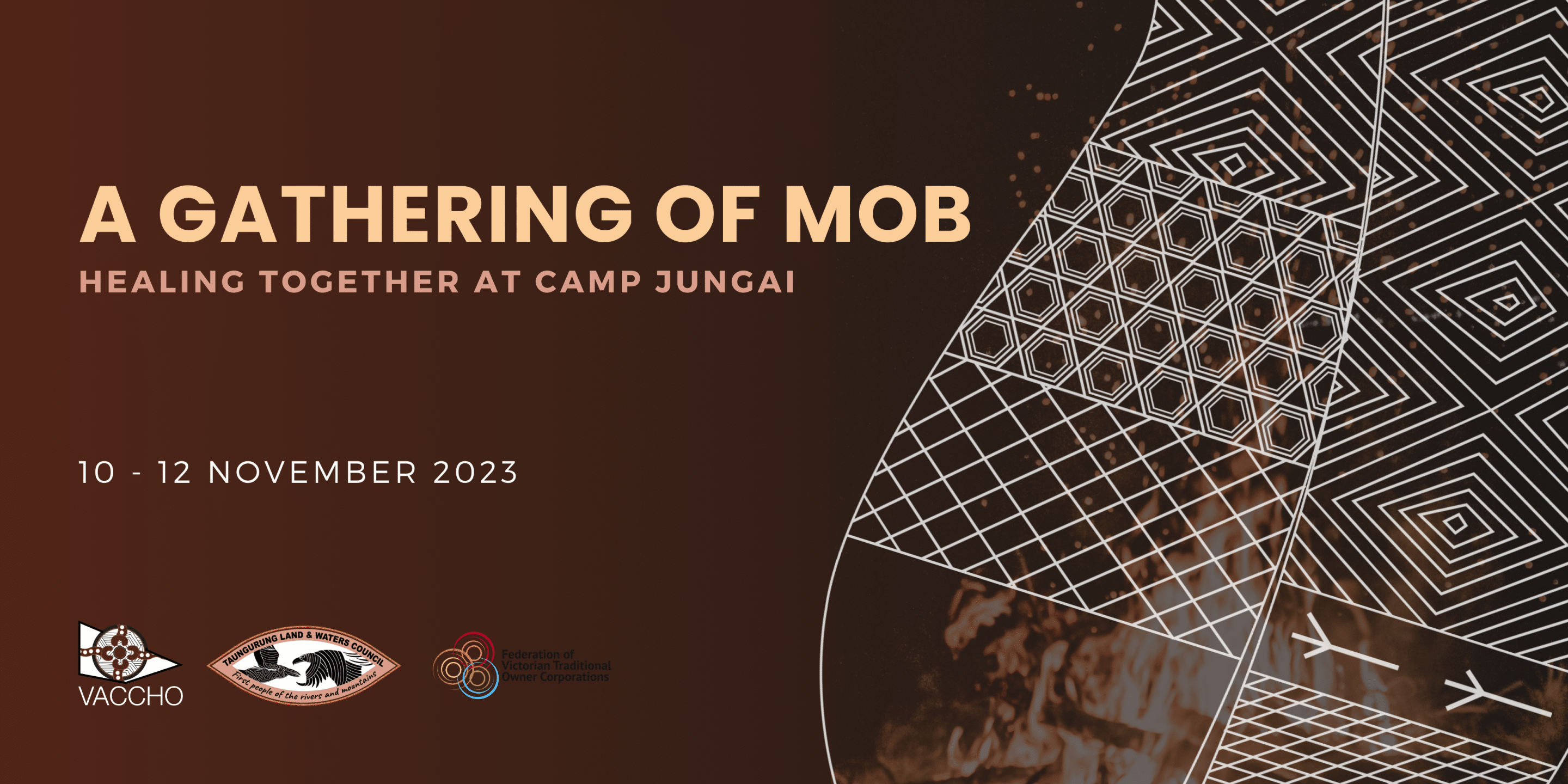 Come to Camp Jungai for a weekend of Culture and Community
Hosted by Taungurung Land and Waters Council with support from VACCHO and the Federation of Victorian Traditional Owner Corporations.
Come immerse yourself in Culture, heal your spirit, yarn and celebrate with Mob.
This is open for all Aboriginal and Torres Strait Islander people in Victoria, and those close to the border. Close family members (e.g. partners, children you care for) who are not Mob are welcome to attend too.
Programme
Mob can begin to arrive from 2pm Friday 10 November with a Welcome to Country and the lighting of a ceremonial fire at 6.30pm.
There will be a programme of activities such as yarning circles, basket weaving, spear throwing, ceremonial dancing, ochre face/body painting and a big gathering of all attending. It is optional for people to take part in the activities. The closing ceremony will finish at 12.30pm on Sunday 12 November and we are to depart by 2pm.
Come for as long or as little as you want. Come for a day or stay the entire weekend!
Get involved
This will be a collaborative cultural experience with Community. To make it the best experience we are looking for volunteers to contribute their time to help us organise activities, cook, set up and pack up and overall make the Gathering a healing and memorable event for Mob.If you are interested in hosting an activity, please let us know – we would love more people to be host activities – jungai@vaccho.org.au

Food (provided)
We will provide dinner on Friday night, breakfast, lunch and dinner on Saturday, and breakfast and lunch on Sunday. Camp Jungai will be alcohol free.There are barbeques available and people are welcome to bring food although there are no fridges or cupboards in the cabins, so we don't recommend that you bring lots of food. We will gratefully accept people bringing food to contribute to the overall catering. Please let us know if you plan to bring food to contribute – jungai@vaccho.org.au


Accommodation
Staying at Camp Junga (Free of charge)
There is onsite accommodation for 154 people. Most cabins are for 12 people with 6 bunk beds and have a shower and toilet. There will be separate cabins for men and women. Please note you will have to bring your own linen and towels. If you are a lone parent bringing a child of a different sex, we will have specific accommodation for you – please let us know. There is also unpowered camp sites available onsite at Camp Jungai. Bring your own tent, swag and camping gear. Select your preferences when registering.
Kendalls Campground (public campground)
Camp sites are also available at Kendalls Campground less that 1km away. These sites are unpowered with toilet facilities. As it is a public campground we cannot reserve places but there is generally space for up to 100 people.
Nearby hotels (at own cost)
People can book the following nearby accommodation options at their own cost: