Voices of Indigenous Wisdom: A Conversation with Influential Aboriginal Leaders on the Referendum
October 5 @ 12:00 pm

-

1:30 pm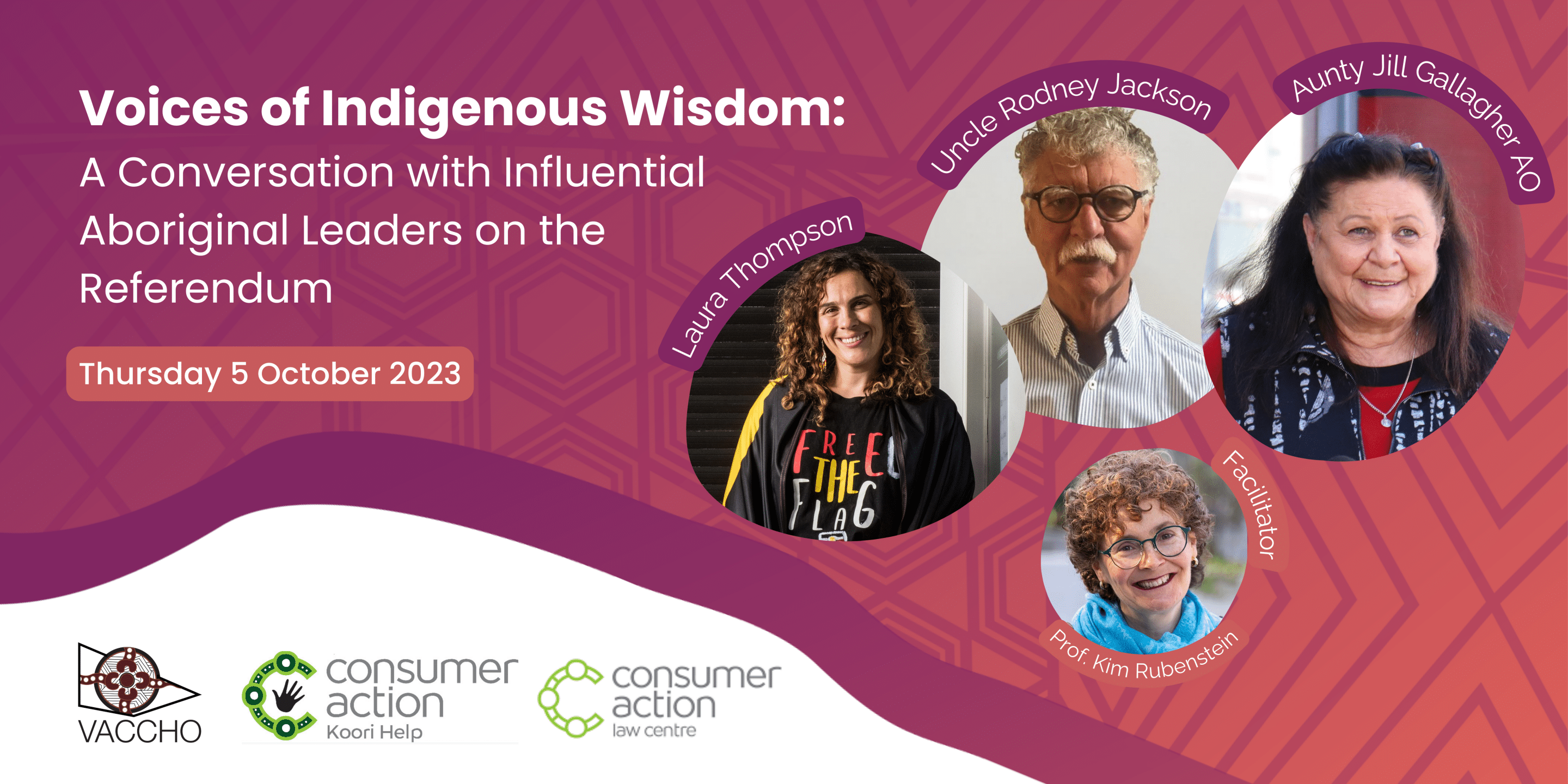 Join us for a compelling online event, where we bring together some of the most influential voices in the Aboriginal community to discuss the critically important topic of the Voice to Parliament.
Thursday 5 October 2023, 12pm – 1.30pm
In collaboration with the Victorian Aboriginal Community Controlled Health Organisation (VACCHO) and the Consumer Action Law Centre, we present an enlightening panel discussion featuring esteemed speakers:
Aunty Jill Gallagher AO – Renowned for her extensive work in Aboriginal health and community development, Aunty Jill Gallagher brings her wisdom and experience to the forefront of this conversation.
Uncle Rodney Jackson – A respected advocate for Aboriginal rights and social justice, Uncle Rodney Jackson's insights will shed light on the significance of the Voice to Parliament.
Laura Thompson – With a profound understanding of legal and social issues affecting Aboriginal and Torres Strait Islander communities, Laura Thompson, representing Clothing the Gaps, will offer a unique perspective on this pivotal issue.
Professor Kim Rubenstein as our facilitator – a constitutional lawyer, academic, author, distinguished human rights advocate, and a champion of equal opportunity and active citizenship.
During this event, our speakers will explore the history, implications, and potential impact of the Voice to Parliament, a critical issue in Australia's ongoing journey towards reconciliation and recognition. They will share their personal stories, insights, and visions for a more equitable and inclusive future for all Australians, and answer the pressing questions on the Voice.
Whether you're a policy maker, a lawyer, a community leader, or a financial counselor, this event promises to be an enlightening and thought-provoking discussion that you won't want to miss. Register now and be a part of this important conversation on 5 October 2023. Together, we can amplify the voices that matter most and work towards a more just and inclusive Australia.