Speak to any parent of school aged kids and they will tell you how challenging it can be to pack a healthy nutritious lunchbox their kids will actually eat and enjoy at school.
The Nutrition team here at VACCHO have developed Healthy Deadly Lunch Boxes, a fantastic easy to use guide that provides tips and advice on building a healthy nutritious lunchbox.
Proud Gunditjmara woman, Shakara Montalto, knows all too well the effort it takes to ensure her son, River, eats well. She was excited to share that he used the Health Deadly Lunch Boxes book to pack his lunch for school.
"River felt really empowered choosing his own healthy snacks and then helping me find them in the shops!" said Shakara.
Shakara is also the amazing and talented artist whose work we proudly display throughout the Healthy Deadly Lunch Boxes resource.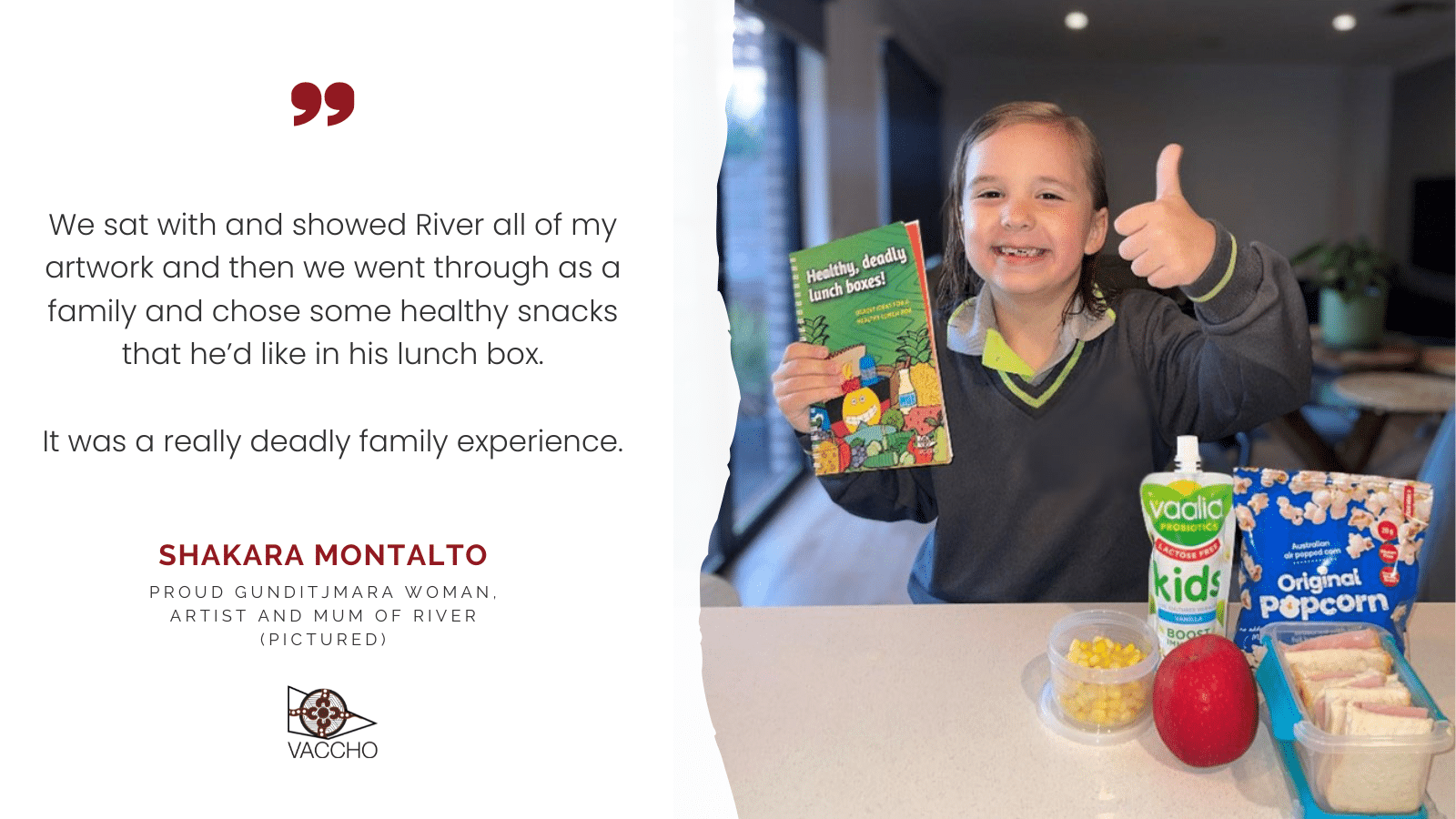 "We sat with and showed River all of my artwork and then we went through as a family and chose some healthy snacks that he'd like in his lunch box" Shakara said, "It was a really deadly family experience."
This week is Nutrition Australia's National Nutrition Week. The focus of their annual awareness campaign 'Try for 5'celebrates the role good food plays in our health and wellbeing, and aims to inspire all Australians to get the most of our veg.
"With the cost of food going up and also wanting to focus on our health, we've made a real focus on eating fresh foods instead of buying pre-packaged sugary foods for the kids lunches," said Shakara.
River has become a great influence for his friends and classmates at school proudly showing off his Healthy Deadly Lunchbox to his class, encouraging them choose healthier options that will fuel their bodies and minds throughout the day.
"He also shared with all of his class the book, and the teacher is going to share with all the kids in his class so they can choose healthy lunches too."
Free downloadable information book, poster and colouring-in sheets that will have you and your young ones making healthy, deadly lunches in no time.
If you'd like to provide Aboriginal and Torres Strait Islander children in Victoria with a Healthy Deadly Lunchbox resource, please get in touch via nutrition@vaccho.org.au.